Simple travel insurance solutions
Unlimited medical cover
Baggage claim benefits
In-page navigation
---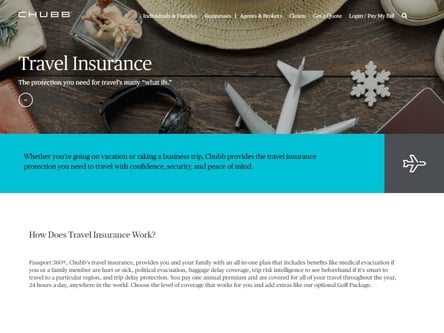 Author Chubb. Screenshot of Chubb website.


[Accessed February 7, 2023]
About Chubb
Chubb (formerly known as ACE), has been assisting clients with their travel insurance needs since 1985.
With global coverage of over 53 countries, they have extensive operating experience in the needs of travellers who require cover in their travels.
Get the best Travel insurance
Chubb has a team of over 15 000 dedicated employees in their group, who are knowledgeable and committed to a high standard of quality service. What makes Chubb unique is its focus on travel insurance in South Africa. They have a deep knowledge of the industry and what their travellers need when travelling anywhere in the world.
Simple to access Travel insurance
Chubb has travel insurance options available for customers to choose from that would best suit their travel needs every time, at the most affordable rates, and offers a list of benefits on each option. Clients can easily access Chubb services whenever they need them, Chubb has a convenient call line open for all clients to make use of.
Chubb Services
Chubb offers clients a list of options when it comes to their travel insurance needs.
Travel insurance is a small price to pay for cover which can save you a lot of money, time, and stress during your travels. Within Chubb cover options, they include a medical cover should you happen to get ill, or get injured during your travels.
The overseas Travel insurance cover
There is nothing more stressful than being in a foreign country, and not having the cover you need in the event of sickness, theft, injury, or damage to your luggage.
A range of benefits including:
An unlimited emergency medical cover
Evacuation cover for high-risk countries during natural disasters or political unrest
Baggage claim benefits and more
Clients between the ages of 18 and 79 can get the travel cover option they need, to ensure smooth travel even if things go wrong.
Chubb – Travel Insurance
Product

Travel Insurance
Get your quote online

You can fill in the form online and get a quote for your travel insurance

3 Options

Chubb offers three different insurance options from basic cover to comprehensive cover.

24hour assistance

Chubb offers a 24hour emergency assistance hotline
Benefits of Chubb
Business insurance - Chubb offers a very large variety of business insurances. These include but are not limited to business travel insurance, cyber insurance and crime insurance.
Useful tips - The Chubb website has many helpful articles on the various insurances
Chubb has a worldwide footprint with an office in Sandton South Africa.
Claims process - Chubb strives to deal with each and every claim as an individual occurrence and to take it on its merits.
---
Chubb provides the travel insurance you need to feel safe
Chubb Travel Insurance is very easy to obtain. Because they are located throughout the country and further abroad, they can offer their services to everyone who needs travel cover.
Chubb's easy-to-read website is the key to getting any of their services and they also offer online insurance quotes. Clients can browse over Chubb's different travel insurance options line, and contact them directly through their telephone number: 011 722 5700 or through their email address: alexander.schudel@acegroup.com.
Once they have your request, they will get started with your application. A consultant, who knows the travel industry and the risks involved, will contact you and discuss your options and the premiums involved.
Chubb will evaluate your Travel insurance needs
They will evaluate your insurance requirements, how long you are travelling for, if you have life insurance and how many people are under one cover, and anything else they need to secure your travel insurance cover.
Chubb will put together a package that includes all aspects and risk cover that may pertain to your trip. This will include a quotation, and from then, you are covered.
They are Travel insurance specialists
Having a travel insurance company that knows the business and works purely on this kind of industry specifications can benefit you tremendously. Chubb understands the risks in each country, they know what travellers need, and they deliver on clients' expectations every time.
A helpline dedicated for you
Chubb also has a helpline available to clients, whenever they need to ask or query anything in regards to their travel insurance cover. Even when you are thousands of kilometres away from home, they will still be available to assist you in times of need.
An experience like no other
Chubb has helped thousands of clients with lost baggage, injuries, stolen bags and cell phones, and delayed flights in the past; they continue to drive their service perfection with every new client that they cover.
Chubb offers proactive, intelligence-driven services to react to events, anticipate delays or risks to traveller safety, and reach out to assist—regardless of the time of day.
You deserve comprehensive Travel insurance
Whether you are travelling for business, pleasure, or a little of both, Chubb comprehensive travel insurance has unique offerings customised to suit your specific needs at all times. Have the peace of mind that Chubb is always watching your back.
Customer Reviews & Testimonials
"
May 2021
Having the needed travel insurance in place makes the whole trip better, knowing that all will be fine no matter what happens. Thank you, Chubb, I travel a lot for business and you make my life s...
Jack. L
— Johannesburg —
June 2021
They pay out fast and their customer service is also world-class while their premiums are super competitive.
Prins. H
— Pretoria —
July 2021
My work laptop recently got stolen on my flight to Dubai, they did not even think twice to replace it in an instant. I am very pleased with their claims process as well.
Thida. G
— Johannesburg —
Chubb Contact
Contact Number
E-Mail
Website
Physical Address
Ground Floor, The Bridle, Hunts End Office Park 38 Wierda Road West, Wierda Valley Sandton

Johannesburg

Gauteng

2196

South Africa
---
Postal Address
PO Box 1192, Saxonwold, 2132, South Africa
Opening Hours
Monday

08:00 – 15:00

Tuesday

08:00 – 15:00

Wednesday

08:00 – 15:00

Thursday

08:00 – 15:00

Friday

08:00 – 15:00

Saturday

– Closed

Sunday

– Closed