Comprehensive insurance
Easy claims process
Affordable monthly premiums
In-page navigation
---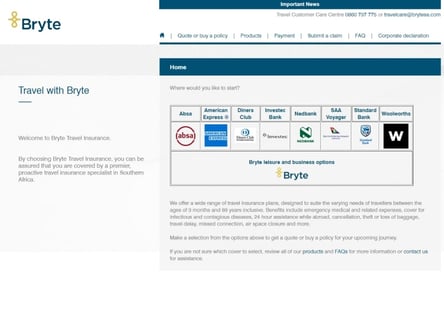 Author Bryte. Screenshot of Bryte website.


[Accessed February 7, 2023]
About Bryte
Bryte Insurance specializes in travel insurance products through a variety of divisions in South Africa.
Bryte has the ability to implement innovative platforms for their clients, through streamlined processes that are integrated throughout their global reach with ease.
Decades of experience in Travel insurance
Bryte has decades of experience in the insurance industry. They only employ the most skilled, and qualified employees in the market, to assist Bryte in growing their business to the best of its potential. Their clients always rely on them for superior customer care, high-quality service, and products that can fit in with their needs and lifestyles.
A solution for all clients
Bryte has a solution for every client who requests services through their firm. With leading heads dating back as far as their establishment date, Bryte's management structure is positioned with a global hierarchy and highly qualified leaders, who always work hard to ensure the best products and service delivery to all Bryte clients.
Bryte Services
Bryte Insurance offers travel cover for clients travelling domestically, internationally, as a group, for pleasure, or on business.
Taking a trip should be an exciting event, a bit of fun, and a time away from home. The last thing on our minds is what can go wrong? However, when you are out of the comfort of your own environment and things do go wrong, have you got the cover to keep you safe and protected?
Travel insurance you can count on
Bryte covers you for those incidents to ensure your trip doesn't ruin the rest of your life. Financially, the loss of luggage can be quite hefty. Should you buy an expensive gift while away and your bags get stolen, Bryte will have you covered.
Travel insurance for medical emergencies
What happens when you have a medical emergency that is not covered by your medical insurance? Don't panic as Bryte is there to cover the medical care or hospitalization you need while you are travelling. No matter what happens, they will ensure that you and your valuables are protected even if you are travelling to a high-risk country.
Bryte – Travel Insurance
Product

Travel Insurance
Online forms for your convenience

For all your travel insurance needs you can simply visit the Bryte website and fill in their online form with your details

Comprehensive travel insurance for any scenerio

Bryte offers travel insurance for the seasoned, business or the leisure traveler.
Benefits of Bryte
Business insurance - Bryte offers comprehensive business insurance including farm insurance
Specialist insurance with Bryte includes your fine art and rare jewelry as well as marine insurance and so much more.
Life insurance - get your comprehensive life insurance cover with the added benefit of funeral cover options from Bryte
---
Bryte has the leverage to cover you when travelling
Bryte Insurance allows clients to apply for their travel insurance through simple processes which include via telephone, through a dedicated email address, or following the instructions on the Bryte website, to access an online insurance quote immediately.
Dependable Travel insurance
If you need business travel insurance, your specifications may be slightly different from if you were travelling for leisure. There are certain criteria that clients need to ensure they meet, for instance, their age, where they are travelling to, how many travellers, and how long you will be away.
Get a letter for a visa
Bryte can also assist with documentation such as a letter, for the embassy where you would be applying for your visa. Keep in mind that you would have to produce these documents to the embassy with a lead time of about 6 weeks, before travelling.
Get the right cover
Bryte will assist wherever they can throughout your journey, in obtaining all the right cover you need, for whatever the reason may be. Travelling overseas can be a little scary. You never know if you may need medical attention, are involved in an accident, or even need to be evacuated from a specific area. Bryte have you covered in any of these emergency situations.
Making a Travel insurance claim
To claim, clients can simply contact Bryte through their call centre, which is available 24/7, and they will arrange assistance for you no matter where you are. They offer a wide variety of travel insurance, wider than your typical travel insurers. Here are some of the plans their products include:
Travel insurance plans:
Leisure plan
Premier Plan
Jet Set Plan
Lite Plan
Island Hopper Plan
Vintage Plan
Golden Years Plan
Group Plan
Top-Up Plan
Benefits of a Travel insurance plan
Each of these plans offers its own benefits and value for money. But most of all, each plan offers the cover of risk. Stolen or lost luggage situations can be extremely frustrating. Bryte can cover your luggage for a specific amount.
When claiming, simply provide a police report to declare that the theft was reported, complete the claim form Bryte will provide you with, and submit. Bryte will have your cover paid out in no time.
Customer Reviews & Testimonials
"
September 2021
I feel super safe knowing that I am covered with the very best travel insurance provider in the country.
Siyanda. B
— Midrand —
September 2021
They covered my entire family for all kinds of things that might happen on our trip. They offer great service and I highly recommend them to anyone.
Sharlotte. M
— Kensington —
October 2021
When you need to claim, they payout fast. When you want to ask any questions or have any concerns, they provide you with accurate answers fast. When you want to take out a policy last minute, the...
Lwazi. N
— Sandton —
Bryte Contact
Contact Number
E-Mail
Website
Physical Address
15 Marshall St, Ferreiras Dorp

Johannesburg

Gauteng

2001

South Africa
---
Postal Address
PO Box 12 415, Brandhof, 9324, South Africa
Opening Hours
Monday

08:00 – 17:00

Tuesday

08:00 – 17:00

Wednesday

08:00 – 17:00

Thursday

08:00 – 17:00

Friday

08:00 – 17:00

Saturday

– Closed

Sunday

– Closed