Auto insurance benefit
Affordable travel premiums
Quick online application
In-page navigation
---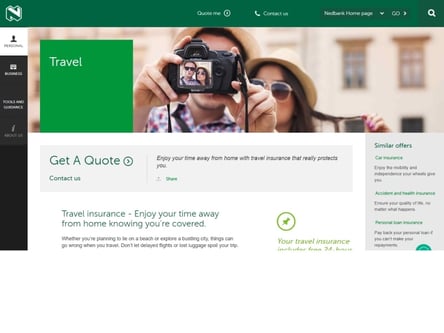 Author Nedbank. Screenshot of Nedbank website.


[Accessed February 7, 2023]
About Nedbank
Nedbank makes life happen for their clients.
Whether it's life insurance for the long term, short term, or during travel, Nedbank has the cover that makes life easier and leaves clients feeling a sense of relief.
Access the top Travel insurance
Nedbank has experience dating back many decades, in which they assist clients with every aspect of their financial and insurance requirements. Nedbank clients get a choice of products that will add value, especially for the premiums they are paying. They believe in giving more for less.
Travel insurance that will pick up the pieces
When life takes a turn, they want to be there to pick up the pieces. Nedbank has done so for thousands of South Africans and provides the surety that you have a guardian angel on your side.
Stay safe on your travels
Don't get caught off guard, without travel insurance. No matter what your requirements, be it business or leisure, Nedbank will provide the cover you need to stay safe and protected.
Nedbank Services
Nedbank will look after you, whether you are traveling for leisure, business, or anything else.
No matter where you're going, no matter how long your trip may be, Nedbank has the travel insurance to cover you.
Get complimentary Travel insurance
Enjoy more benefits when you are a Nedbank client that has a cheque or credit card. You can receive instant travel insurance when buying your air tickets by swiping your card. That is a unique service Nedbank offers its clients. Just their way of saying thank you for using Nedbank.
Travel insurance you can trust
Luggage gets stolen or tampered with. Items of value get stolen. You lose your cell phone. Weather conditions could impact your trip or delay your flight when you are abroad or you could get hurt or injured, or even fall ill.
There are so many unexpected events that could take place while you are traveling. You don't have to be a victim. Take cover with Nedbank travel insurance today.
Nedbank – Travel Insurance
Product

Travel Insurance
Online Quote

Nedbank offers you the opportunity to fill in the form online and request a quote or a call back

Automatic Travel Insurance

When you buy your tickets with either your Nedbank Credit Card or Cheque Card you will automatically be covered by complimentary travel insurance.

24 hour Emergency Assist

You can call for assistance from anywhere in the world 24hours a day
Benefits of Nedbank
Credit Protection is insurance for all loans or lines of credit. If anything should happen to you this insurance will cover your debts so as not to burden your family with this responsibility.
NIC (Nedbank Chat) - a live chat is available to you while you look at the different options, buy or make a claim on line.
Legal cover - Nedbank offers you the opportunity to have a lawyer at your disposal when needed.
Life cover for up to 2 million for up to 10 beneficiaries and you can add cover such as disability and critical illness cover. You can add funeral cover to this to assist your family with expenses.
---
Nedbank - Offering clients automatic travel insurance
Nedbank offers convenient methods for clients to access travel insurance.
Firstly, being a Nedbank client, and swiping your card to pay for your trip, immediately puts you in line for travel insurance. Another way to access the cover is through Nedbank experienced and very helpful consultants.
The right Travel insurance for you
Nedbank can also help you access your travel insurance cover by making an appointment to speak to them in person. Nedbank has branches in every town throughout South Africa.
Clients can call Nedbank, email them or complete the query form to get an online insurance quote. No matter what your preference of communication, they will get your application or online insurance quote request processed as fast as possible.
Nedbank's Travel insurance is affordable
Nedbank has years of experience in attending to the insurance needs of their clients. They know what benefits to adding, they know what adds value, and they know that your budget is a priority. Knowing that you will have the safety of this policy when travelling is priceless.
When the unexpected happens
Nedbank knows of the natural disasters happening abroad, which no one can stop, they know of the unrest in certain countries. They also know bags get stolen, or tampered with.
You could lose your belongings and expensive items of value. Don't be caught without travel insurance, you never know when you are going to need it. Nedbank does have a few criteria that travellers need to take note of before applying.
Applicants must take note that
Length of travel is limited to 30 days.
Travellers must be under 75 years of age.
Serious medical conditions not covered.
Dangerous life-threatening activities you may have signed up to do on your holiday are not covered.
Extended stay with a top-up
Nedbank can arrange insurance cover to be topped up should you need to extend your stay or need extra cover during your travels. Let Nedbank look after your wellbeing, so you can concentrate on enjoying your vacation, or getting on with your business trip in the case of those who opted for business travel insurance.
Nedbank also assists with group bookings, family holidays, and business travel insurance, for companies wanting to send their business employees on trips for work.
Customer Reviews & Testimonials
"
August 2021
The best travel insurance ever.Will definitely recommend them.
Zulu G
— Johannesburg —
January 2021
Always the best insurance when traveling. They assisted me quickly when l had problems
Khoza H
— Pretoria —
Nedbank Contact
Contact Number
E-Mail
Website
Physical Address
263 Commissioner St, Shoprite Centre

Boksburg

Gauteng

2000

South Africa
Opening Hours
Monday

09:00 – 16:00

Tuesday

09:00 – 16:00

Wednesday

09:00 – 16:00

Thursday

09:00 – 16:00

Friday

09:00 – 16:00

Saturday

08:30 – 12:00

Sunday

– Closed