Multiple insurance options
Efficient emergency services
Online claims processes
In-page navigation
---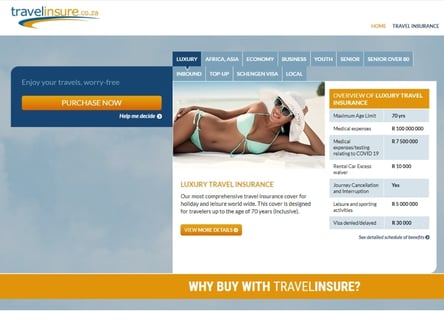 Author Travel Insure. Screenshot of Travel Insure website.


[Accessed February 7, 2023]
About Travel Insure
Travel Insure was the very first travel insurance company in South Africa, to provide a comprehensive solution to ensuring travellers for risk and emergencies when travelling.
As pioneers in the industry, they managed to develop an easy-to-use platform for clients to access online insurance quotes, and a solution all online.
Travel insurance products that offer high value
Travel Insure's products stood out in the markets and since then have evolved into extraordinary and valuable products available to all clients needing cover when travelling. Enjoy dealing with experts that know the company well, know the industry even better, and know what you need on your travels.
Travel insurance that meets your needs
Travel Insure provides services underwritten by insurance icon Regent Insurance Company Limited. Travel insurance options are flexible and in line with each traveller's individual profile and travel needs.
They assist with simple luggage claims and more involved cover such as emergency assistance. Whatever your insurance needs, Travel Insure will provide the means to keep you covered.
Travel Insure Services
Leisure cover, business cover, personal or group cover, Travel Insure offer all of the above in travel insurance.
They are pioneers in the travel insurance industry that deliver the most impeccable benefits and services to their travelers as they have the upper hand in delivering the best knowledge in the industry.
Benefits of Travel Insure
All-inclusive insurance for domestic as well as international travel
Emergency assistance should an accident occur
Treatment for pain in a dental emergency
Medical assistance through a registered nurse 24 hours even for people with medical insurance
If you have pre-existing medical conditions, they cover up to R500 000
Missed flights or delayed flights
Travel provider insolvency
Loss or theft of luggage
Travel Insure offers a wide range of travel insurance packages according to their clients' needs. They've got you covered whether you are travelling for business or pleasure, alone, with the family, or in a group, no matter what your arrangements are.
Travel Insure – Travel Insurance
Product

Travel Insurance
Many different options

Travel Insurance offers you insurances for the region you are travelling to.

Cover for everyone

You can get travel insurance as a business, leisure, senior or student traveler
Benefits of Travel Insure
Top medical assistance - you will be covered for medical assistance and advice from top medical providers while traveling covering you for all emergencies.
Affordable cover - Travel insurance offers you some of the most affordable cover in SA
Are you a frequent traveler? You can get cover for your many trips at more affordable rates.
---
Get your trip covered today with travel insure
Travel Insure makes getting travel insurance a breeze.
They allow their clients to get an instant online insurance quote on their insurance needs just by following a few easy steps on their online platform. By determining how many days your trip will be, your reason for travelling, age, and medical history, and a few minor details, Travel Insure can estimate and produce a quotation from the information you provide to them.
Tailored Travel insurance for you
From there, they will customize your policy to meet all the needs of your travel requirements. Should you need a letter from the embassy when applying for a visa, they can also assist you with that.
Travel Insure's clients get an instant leisure or business travel cover which is payable through your credit card, online through their safe and secure payment process.
Travel Insure's process is completely paperless
This can save you a lot of time. Making travel arrangements can be quite complicated, however, they make the insurance part as simple as ever. Everything is done online, making clients feel more relaxed about getting cover before they take off on their trip. You get your completed and paid insurance documentation sent directly to your email address.
Make use of the Travel insurance help desk
They also provide a help desk available to clients whenever they need assistance on the claims, or just to enquire about anything on their travel insurance policy. They are always ready to take your call and help you, even if you are thousands of kilometres away.
Clients travelling for pleasure or leisure, get a package for those who are under 69 years with all benefits included. Travel Insure also caters to clients over 69, with their special senior package, which is specially designed with their senior clients in mind.
Annual Travel insurance package for frequent travellers
Frequent travellers can take advantage of Travel Insure's annual package, which is designed to cover travellers for the entire year, at a phenomenal rate. You receive a host of valuable benefits to accompany your travel needs.
Travel Insure has travel insurance for everyone. Their benefits are extremely competitive, and knowing that you are covered through the most experienced firm, will give you the peace of mind that you're covered right.
Customer Reviews & Testimonials
"
August 2021
I am a frequent traveler and took their annual package, very inclusive and cheap too. I am very pleased with what they are offering me.
Nico. K
— Sandton —
September 2021
Getting things done fast is what they do, whether it is to help you put the cover in place or to pay out your claim. I already claimed twice with them and had no issues whatsoever.
Katlhego. G
— Kensington —
September 2021
Most reliable travel insurance provider in South Africa, I recommend them to everyone that is planning on taking an overseas trip.
Joan. T
— Wadeville —
Travel Insure Contact
Contact Number
E-Mail
Website
Physical Address
55 Monkor Dr, Randpark Ridge

Randburg

Gauteng

2156

South Africa