Affordable travel packages
Instant travel insurance cover
Quick online quote
In-page navigation
---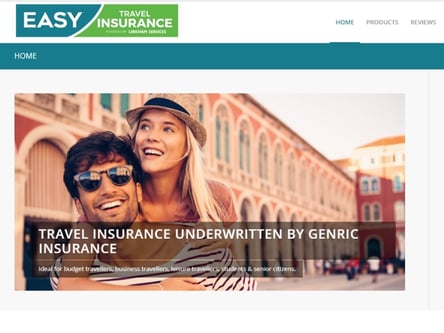 Author Easy Travel Insurance. Screenshot of Easy Travel Insurance website.


[Accessed February 7, 2023]
About Easy Travel Insurance
Easy Travel Insurance provides clients with industry experience of many years and ensures every aspect of your travel is managed by people who fully understand your business and the industry in which you operate.
Easy Travel Insurance supplier relationship
Through their strong supplier relationships that have been built over the years, they can negotiate special rates that will suit your pocket. They also make use of innovative technology that makes their processes easy from end to end. They truly stand out from other travel insurance providers.
Easy and dependable Travel insurance
Easy Travel is financially stable in the insurance industry, with the underwriting backup of Regent Insurance which is wholly owned by Imperial Holdings, a Multi-billion-rand company. Enjoy having easy online access to the travel insurance you need in a few minutes.
Travel insurance cover
Easy Travel Insurance offers travel insurance in South Africa for a wide space of travelers, from business to pleasure, group travel, and student travel.
Easy Travel Insurance Services
Easy Travel Insurance offers all-inclusive travel cover packages at the most affordable prices to South Africans, starting at a mere R10 per day.
Budget Travel insurance packs
Travelers can get budget insurance packages, which include assistance when needing to obtain a Schengen visa, and when getting travel insurance is a must-have.
Travel insurance you can depend on
Business and leisure travelers can benefit from instant travel insurance cover and know that should anything happen whilst traveling, they will have you covered. You could lose your luggage, undergo a serious illness, or get into a car accident.
So many things can go wrong when traveling, but having comprehensive cover in place with a reliable insurer that understands the risk will protect you in case of any unfortunate events.
Easy Travel Insurance includes
Medical Emergency Cover R5 million – R100 million
Personal Accident Cover R50,000 – R1 million
Personal Liability Cover R1 million – R3 million
Visa Denied Cover R15,000 – R40,000
Trip Cancellation Cover R10,000 – R40,000
Easy Travel Insurance – Travel Insurance
Product

Travel Insurance
Online - No paperwork

With Easy Travel Insurance you can get your quotes online and buy the insurances that you need all online with no paperwork

Various options

You can choose from standard travel insurance or choose insurance that covers the region of the globe that you are traveling to.
Benefits of Easy Travel Insurance
Variety of policies are available to choose from. Easy Travel Insurance can help you whether you are traveling for leisure or business and even if you are a senior citizen or a student. You can also search for insurance options specific to the area that you are traveling to.
FAQ - It may be difficult to know what insurance type you need while travelling. You can visit the FAQ (frequently asked questions) tab on the website and read the helpful advice on all the questions that you should be asking there.
Trust the great customer reviews that they have received
---
Easy Travel Insurance - your experts in Travel Insurance cover
Getting an online insurance quote is quick and easy from Easy Travel Insurance.
Because they process their insurance applications online, they can act fast to get you the insurance coverage you need before you travel. You can visit the Easy Travel Insurance website to get you started and covered today. They have provided all the policies available to each specific need of their clients' travel needs.
Travel insurance, South Africa
Clients can click on the quote prompt, and you will receive an immediate response with a quotation attached. If you are happy with the quotation provided, you can follow the next steps on the website to secure your travel insurance cover.
How to get Travel insurance cover
You will receive a form to complete by filling in your personal and travel details and submitting it back to Easy Travel Insurance for processing. Once they have your policy completed, they will send it to you to print. Easy Travel Insurance also includes all policy documents as well as a visa letter that can be used when you apply for foreign travel documents at the embassy.
Travel insurance for your budget and needs
Easy Travel Insurance has different options for different travel needs. Business travel insurance will be different from travel insurance for a person traveling for pleasure. When you are carrying your laptop around, you run the risk of being a victim of theft. Travelers coming back from holiday often bring back gifts and items of value.
Insurance for business travelings
Will you be traveling to an area that is known for unrest and violence? All these factors are considered when creating a proposal for your specific travel needs.
Should your company wish to make use of Easy Travel Insurance services on a business basis, they are also happy to negotiate a group insurance cover for the entire business and your travelers. They will always negotiate to ensure that you get the very best rates as they have affiliates in all the right places.
Benefits of Easy Travel Insurance
Easy Travel Insurance's unique benefits also include a medical cover with a 24 hours medical assistance service you can utilize. Ensuring that travelers have access to care no matter what time it is.
Customer Reviews & Testimonials
No reviews for this business.
Easy Travel Insurance Contact
Contact Number
E-Mail
Website
Physical Address
East Wing, Ascot Office Park, Conyngham Rd, Greenacres, Gqeberha,

Port Elizabeth

Eastern Cape

6001

South Africa
Opening Hours
Monday

09:00 – 16:00

Tuesday

09:00 – 16:00

Wednesday

09:00 – 16:00

Thursday

09:00 – 16:00

Friday

09:00 – 16:00

Saturday

– Closed

Sunday

– Closed