Business and personal insurance
Easy online claims
Travelling documents assistance
In-page navigation
---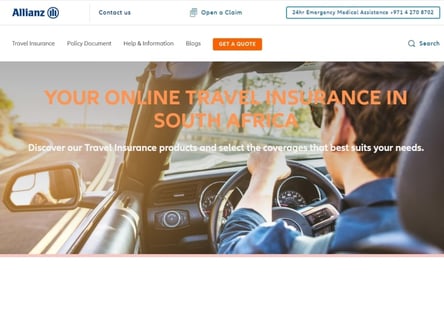 Author Allianz Travel. Screenshot of Allianz Travel website.


[Accessed February 7, 2023]
About Allianz Travel
Allianz is a large global company with a presence in more than 200 countries, over 4,000 employees, and offices in more than 70 countries.
While their focus is on providing specialist risk mitigation to international companies covering industries such as aviation, energy, and engineering they also provide personal products such as travel insurance.
A specialist Travel insurer
Most travel insurance providers limit their cover and have fairly similar exclusions (such as extreme sports and terrorism). Whether you need specialist insurance for winter sport or terrorism cover, Allianz has the range of products to get it done.
Sports cover from Allianz
This add-on to any of their travel insurance South Africa packages will cover you for sports and leisure activities such as cross-country skiing, sledding, hockey, lacrosse, mountain biking, parachuting, water polo, and kite surfing.
This does not however cover individuals who are undertaking any sports activities on a professional level or any kind of non-foot racing, and manual work. You can easily view their table of covered sports and leisure activities via their website or email them for more information.
Terrorism add-on cover
If you're injured, disabled, or incur any loss or damage as a result of an act of terrorism your policy will pay out up to R1 million. Need emergency assistance
As a global force in the insurance sphere, Allianz is able and ready to assist you during an emergency with the help of their medical emergency trams and when you need to make a claim or ask for general assistance via phone or email.
Allianz Travel Services
Allianz offers quick, simple, and affordable travel insurance packages for individuals, families, and groups.
Their insurance products are amongst the most flexible and convenient on the market in South Africa with affordable rates, unique packages to meet very specific needs, and a fully online application process.
Schengen Travel visa insurance
This product has been specifically put together for those who are applying for a Schengen visa and need to comply with the visa requirements. In addition to ensuring your application is approved, you're also covered for any medical emergencies that may occur on your trip up to a limit of R500,000, dental expenses of up to R5,000, and R1,000 travel document loss cover. If you're not approved for your visa and want a premium refund you can simply request this refund by sending your documents over to Allianz.
Single trip cover
You can opt for either the Travel Plus insurance package or the Travel Extra package if you're planning a single trip overseas. These products will cover you for up to 90 days and offer simple to comprehensive cover.
These products offer a higher level of cover than the Shengen visa option with cover for trip cancellation and curtailment, loss of luggage and travel documents, medical emergencies, repatriation and sympathy visits, dental expenses, and personal liability. The Travel Plus and Travel Extra options both cover for the loss or theft of cash while you're on a trip.
Allianz Travel – Travel Insurance
Product

Travel Insurance
Options

Allianz offers options to get cover tailored to your needs. This can include multiple trips in a year

Travel Smart App

With the travel smart app you can find emergency numbers and track your flights
Benefits of Allianz Travel
Compare options - On the website you can easily compare the 3 different options offered side by side with the cover amount for each emergency itemised.
Online portal - you can get your quote, buy your travel insurance and make your claims all on the website
24 hour emergency help - offered from anywhere in the world by simply dialing +27 87 195 0581
---
Get a quick and accurate travel insurance quote.
Applying for an Allianz travel insurance quote is quick and easy if you get it done online via their "Get A Quote" portal.
Once you've chosen the type of travel insurance you're looking for (Schengen, Single Trip, or Annual you'll be asked to specify any specialist cover you need. This includes terrorism, hazardous activities, or winter sports) and tell them where you're going and for how long.
You'll also have the option to add family members and others travelling along with you and benefit from a more affordable package. Once you've input all this information (it should take a few minutes only) you can hit "Submit" and you'll get an accurate quotation.
If you're happy with your quote you can simply buy the policy securely online using a Visa or Mastercard credit card in seconds. You cannot purchase travel cover after you've already headed out on a trip or holiday so ensure you get it sorted well in advance.
Multi-trip annual cover
If you travel frequently it would make sense to take out a policy that will cover you year-round so you don't have to waste time and money reapplying every other day, week, or month.
Allianz offers an annual multi-trip product that covers you for up to a maximum of 92 days of travel per single trip. This annual cover can take the form of a Travel Schengen policy, the Travel Plus policy, or the Travel Extra policy for those that want comprehensive cover.
Your policy schedule
Allianz has made it easy for you to review exactly what you'll be covered for when you take out one of their policies online. You should get familiar with these and make sure that you save a copy of your policy schedule (which lists exclusions) somewhere you can easily access even if you lose your luggage, documents, and mobile phone or laptop (for instance in your email).
Making claims with Allianz
As a large global insurer, Allianz handles thousands of insurance claims every day and is set to ensure your claim is processed quickly and efficiently. If you've lost your luggage and need to make a claim, you will have to provide receipts for all items. Where receipts are not available you can make use of warranty cards, photo evidence, and bank statements to prove ownership.
Customer Reviews & Testimonials
"
April 2021
A couple of years I lost my passport and visa just then I decided to get covered seeing that I travel a lot, so I came across Allianz and have been with them since then.
Alister A
— Tswane —
August 2021
If you get robbed during a trip they will cover your losses guaranteed.
Eden X
— Orania —
Allianz Travel Contact
Contact Number
E-Mail
Website
Physical Address
The Firs, 2nd Floor, Office 202, 32A Cradock Avenue, Rosebank,

Johannesburg

Gauteng

2196

South Africa
---
Postal Address
P.O. Box 62228, Marshalltown, , Johannesburg, 2107, South Africa