Online travel cover
Affordable premiums
Get an online quote
In-page navigation
---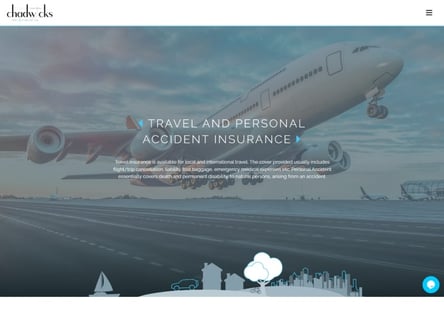 Author Chadwick Risk. Screenshot of Chadwick Risk website.


[Accessed February 7, 2023]
About Chadwick Risk
Chadwick Risk & Insurance Brokers (Pty) Ltd is a Cape Town-based insurance company, with over 14 years of experience in the insurance industry.
They offer a range of insurance products including travel insurance cover.
Obtain the best Travel insurance
Chadwick Risk understands the need for any insurance cover, through every step of life, and travelling is one area that is no exception. Chadwick Risk firm works through intrinsic quality control processes which ensure they remain one of the most committed customer-centric insurance brokerages in the country.
Providing comprehensive Travel insurance
The founders of Chadwick Risk company have 40 years dating back in insurance experience, which they have brought into their firm. With a dynamic team involved in the analysis of risks and technical performance, they create a balance of what customers need, what they can benefit from, and continuous improvement as the industry evolves. Chadwick Risk offers the most valuable travel insurance to tend to every step of your travel journey.
Chadwick Risk Services
Chadwick's Travel Insurance understands that during any travel experience, business or pleasure, things can always go wrong.
Be it lost or stolen luggage, an unexpected illness, food poisoning, car crash, or natural disaster. No matter how cautious you are, something unexpected could always happen.
Enjoy Travel insurance that has your back
Being prepared for anything and having travel cover in place, especially in areas that are undergoing unrest, clients can be assured that travel insurance from Chadwick will look after you. Chadwick Risk travel insurance covers clients for theft, illness, loss of travel documents, and much more.
Travel insurance you can rely on
Each cover package includes specific criteria cover for your individual needs whilst travelling. They will go through the terms and conditions with you before you settle on the cover of your choice. You can feel comfort in knowing the minute you leave on your trip, that someone is watching over your best interests.
Chadwick Risk – Travel Insurance
Product

Travel Insurance
Comprehensive Travel Insurance

Chadwick offers comprehensive travel insurance which includes cover for cancelations, lost or stolen property and medical emergencies

Transparent policy

Chadwick will provide you with a full set of policy documents detailing the cover that you will receive as well as any and all exclusions.

Questions?

If you have any questions simply click on the chat bubble to have a helpful consultant answer them in real time
Benefits of Chadwick Risk
Business insurance - Chadwick offers a comprehensive business insurance range. They can assist you with cover for not only your business assets but also you business travel and so much more.
Personal insurance - Chadwick can assist with insuring your personal assets with comprehensive vehicle and home insurance offers.
Claims - They pride themselves in fast, friendly and simple services. To achieve this you will be assigned a dedicated person to assist with your claim so that you have one point of contact at all times. You will have an answer on a claim in 48hours.
On-line quotes - You can get quotes for the insurance that you need by filing in the form online with all your details.
---
Take the Risk out of Travel with Comprehensive Insurance
Chadwick's travel insurance can offer travelers an online insurance quote for their travel needs in a very simple process.
They have provided customers with a quote form on their website, which can be downloaded and completed. Once you send it through to Chadwick Risk, they will let you know immediately that they are working on your request.
Start your Travel insurance cover today
Chadwick Risk always acts promptly towards their customers, as they know when you have travel plans in place, you don't want to wait a minute longer to ensure you have everything sorted out. Clients can also contact Chadwick Risk directly by completing the contact form, and filling in the mandatory information asked for.
Get the customer service you deserve
Submit your request and get a call from Chadwick Risk experienced consultants in speedy turnaround time frames. Quality control procedures form the basis of their standard business practice. Chadwick Risk has implemented best-in-class systems and automated programs to ensure that all insurance policies are subject to rigorous checks throughout the application process from beginning to end.
Reliable, professional, and courteous
Chadwick Risk's reliable, professional and courteous staff has the knowledge in all aspects of the travel insurance industry to attend to all your travel insurance needs. Chadwick Risk can also assist if you are travelling abroad, and need to query anything to do with your insurance cover.
Quality control & service excellence
Chadwick Risk consultants ensure the best quality control processes are in place to create a smooth, and accessible process when you need travel cover for yourself or business travel insurance for your employees. Chadwick Risk has invested heavily in the program software to ensure optimal service quality in all aspects of the insurance management process.
Travel insurance you can trust
One of the key differentiators which distinguish them from their competitors is the level of engagement between their people and their customers, driven by their culture.
Everyone says their people are different, however, Chadwick Risk makes this statement with confidence and tangible evidence to support their claim. Contact Chadwick Risk today, get covered, and travel without a worry in the world. Just having that peace of mind can take the stress out of any trip, be it business or pleasure.
Customer Reviews & Testimonials
"
June 2021
They offer the greatest benefits on their highly comprehensive travel insurance cover. In over 5 years of being covered with them, I never experienced any issues. They also pay out fast when it c...
Gerrit. M
— Bellville —
September 2021
Got everything I needed from them to be fully covered on my trip to Egypt at a great price.
Nthabi. K
— Claremont —
October 2021
We are planning a family trip overseas and while having a lot to keep in mind, they have put out minds at ease and we can all rest assured now that if anyone gets sick or if anything happens to o...
Miriam. J
— Wynberg —
Chadwick Risk Contact
Contact Number
E-Mail
Website
Physical Address
Glacier Place, 1 Sportica Crescent, Tyger Valley

Cape Town

Western Cape

7530

South Africa
---
Postal Address
PO Box 5855, Tyger Valley, 7536, South Africa