Insurance cover up to R10 000
Effortless online services
Free online insurance quote
In-page navigation
---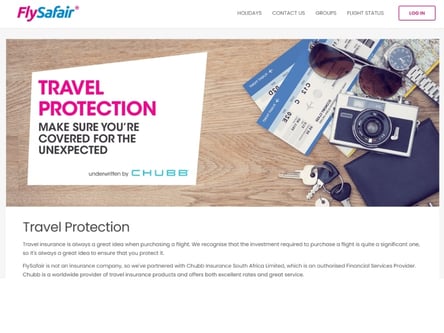 Author FlySafair. Screenshot of FlySafair website.


[Accessed February 7, 2023]
About FlySafair
As one of South Africa's most loved and reliable airlines, Safair is a household name that quickly and safely ferries passengers to and from multiple national destinations with some serious heart.
When you fly Safair you'll know for sure that you're being taken care of by the most reliable, capable, and well-trained ground and air staff in the country. They're big on maintaining a staff that works well together as one big family and is always dedicated to achieving high staff retention figures.
A brief history of Safair
Established in 1965, Safair was a specialist airlift service provider and provided leasing and cargo services for years. In 2014 the Safair that we all know and love today was established and started operating under its own name to the public. Prior to this they operated on a lease basis and flew for large carriers such as Mango and Kulula.
22 planes and counting
Whether it's their heart and commitment to excellence or their adaptability and dedication to growth, Safair has been growing year on year and is clearly an airliner that's here to stay. While they started operating with only two aircraft, they now have 22 operation aircraft and have added more destinations across the country including George, Gqeberha in PE, and Bloemfontein.
Flight extras you'll love
Since Safair operates with their customer as their primary focus you can enjoy a host of flight extras that will ensure your flight will go smoothly. From enjoying their complimentary in-flight magazine to using their app to easily book and manage your flights, you know you'll be getting top service when you choose this airline.
From assistance with unaccompanied minors and priority boarding to lounge access and travel protection, Safair has really thought of it all. You can even rent a car from First Car Rental at discount rates or book a hotel at special rates reserved for Safair customers.
FlySafair Services
While you may know that Safair offers affordable national flights with stellar service that's impossible to compare to other carriers, Safair also offers a host of flight extras you'll certainly benefit from.
This includes the discount car rental and hotel bookings as well as their travel protection which is underwritten by Chubb Insurance South Africa.
Bag insurance for you
Remember that if your bag is stolen or your items are damaged, the airline is required by law to compensate you but this is limited and any damage to your bag will not be compensated. Travelling (even just locally) may very well seem like an activity that isn't very risky but with so many people handling your check-in bags, you may find your bag ends up damaged. To help sort the issue out, Safair offers customers the option to take out baggage cover at just R13 when purchasing a flight ticket.
Travel protection for you
Travel protection is a form of travel insurance that will cover you for flight cancellation, loss or damage of possessions, and even delays. This is a cover that's significantly more comprehensive than the baggage cover and offers you peace of mind and convenience.
Cancelled and delayed flights
With travel protection, you will be able to claim R400 per 3-hour delay. If you have to cancel your flight (for instance if you experience a medical emergency and end up in hospital) you'll get a full airline ticket refund.
Baggage and personal item cover
This offers you cover for your phone, laptop, or notepad as well as any other items you take on board with you (if you want a checked-in bag cover you have to add the baggage cover separately). The excess is R250 per claim and you get cover of up to R1,000 for single items and R2,500 per item for electronic devices.
FlySafair – Travel Insurance
Product

Travel Insurance
Bag Insurance

Add baggage insurance to your airplane tickets. You can cover your belongings including sporting equipment

Travel Protection

You can cover yourself against cancelations, flight delays and your personal items
Benefits of FlySafair
Holiday packages - Fly Safair offers you the opportunity to book all inclusive holiday packages for the most popular cities in SA
Book your flights with Safair at the most affordable rates
Check your flight status - easily check your flight status online
---
Add the cover you need when purchasing your flight.
Both the baggage insurance and the travel protection products can be added by you when you're purchasing a ticket.
Since their travel insurance products are simple and affordable there's no reason to get a quote or sign lots of documents. You just purchase your ticket and add what you need. Please note that Safair does not currently offer overseas travel insurance through its partnership with Chubb.
When your cover starts and ends
Cover starts only once you've checked in and of course, once your premium is paid (which would've been at the time you purchased your ticket). Cover ends once you leave the airport after your flight has safely arrived.
Making a claim
Chubb will handle any insurance claims that you make and not Safair. You will need to call them immediately to notify them of the claim and fill out a claims form and return it to them within 30 days. For personal items, you will be asked to provide proof of purchase to a reasonable degree. For theft, you will need to provide a police report and for any damage that was caused by the airline, a property irregularity report will be required.
What's not covered
There are many incidents, accidents, and items that will not be covered and you should review these in your policy wording which is available on Safair's website. There is a maximum payout amount for all items covered which will be specified in your policy schedule.
No claims related to criminal or reckless behaviour (like leaving items unattended), or malicious damage by you will be covered. No damage or loss as a result of pandemic and epidemic events, civil unrest, strikes, blockades, or riots will be covered either.
Customer Reviews & Testimonials
"
January 2021
How many times have you heard about woman or men getting robbed of their bags when traveling? Don't fall victim to this get covered for bag insurance with your travel insurance.
Jasmine W
— Pietermaritzburg —
January 2020
With this whole covid going on its best to have travel insurance that covers cancellation of flights and booking because now days who knows what could happen.
Nthombiswe G
— Polokwane —
FlySafair Contact
Contact Number
E-Mail
Website
Physical Address
Northern Perimeter Rd, Bonaero Park,

Johannesburg

Gauteng

1622

South Africa
Opening Hours
Monday

07:00 – 19:00

Tuesday

07:00 – 19:00

Wednesday

07:00 – 19:00

Thursday

07:00 – 19:00

Friday

07:00 – 19:00

Saturday

07:00 – 19:00

Sunday

07:00 – 19:00