Flexible travel insurance
Medical assistance benefit
Get an online quote
In-page navigation
---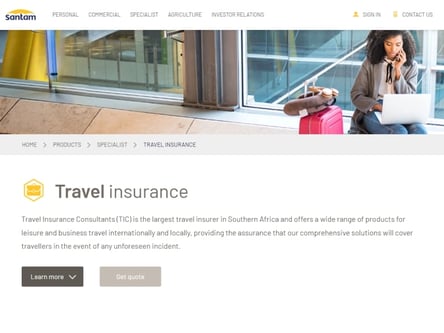 Author Santam. Screenshot of Santam website.


[Accessed February 7, 2023]
About Santam
Santam is one of South Africa's largest financial services providers and dominates over 20% of the insurance market share.
With over R1 million Santam policyholders and five large business units including Santam Personal, Santam Specialist, and MiWay they're a powerful force in the industry and continue to grow with their attention to detail and focus on maintaining a high standard.
A provider determined to stick around
In order to maintain its market share and continue growing, Santam has dedicated itself to adapting to changing environments and improving all facets of its business with sheer will and determination.
This provider is competitive, consistent, competent, and dedicated to growing through diversification. If you want to work with an insurance provider that won't let you down and will stay committed to doing "insurance good and proper" – Santam is the answer!
Reliable cover for you or your business
Santam provides a host of specialist insurance products over and above their range of personal insurance products such as car, building, home contents, drone, executive, and watercraft cover.
These specialist products include real estate cover for sectional titles, personal asset risk solutions via Echelon, hospitality and leisure industry cover via H&L, and travel insurance via Travel Insurance Consultants (TIC).
More about Travel Insurance Consultants
Santam Travel is underwritten by TIC – Southern Africa's largest travel insurance provider with over 30 years of experience. Not only do they offer tailored travel insurance packages but they do it with service excellence while maintaining affordable premiums. TIC distributes travel cover via their extensive network of brokers, agents, banks, and medical aid schemes to people across Southern Africa.
Santam Services
If you're planning on visiting South Africa and want inbound travel insurance, you are going on a family holiday, or need cover for your next business trip – TIC will provide you with the flexible cover you need.
What Santam Travel insurance covers
Santam's travel insurance packages are fantastic and offer a host of benefits including cover for lost or damaged luggage, personal belongings and documents, cover for trip cancellation and curtailment, emergency medical treatment, personal third party liability, repatriation, and evacuation, and more.
Santam Travel insurance packages:
Leisure standard and leisure comprehensive: If you're travelling to an expensive country (where the Rand is weak) you'll want to take out the comprehensive cover as it covers a long list of losses and emergencies as well as pre-existing illnesses. If you're travelling to a country where the Rand is similar in value to the local currency (other Southern African nations) you could opt for the leisure standard package.
Local cover: If you're planning a local trip within SA's border, this product is just what you need! You'll have cover for cancellations and curtailments, car rental excess waiver, medical transport and evacuation, and more!
Senior travel insurance: Ideal for leisure holidays and covers medical emergencies, repatriation and evacuation, luggage loss, death and disablement, third party liability and so much more.
Youth travel cover: If you're studying overseas or taking a working holiday this product will cover medical emergency expenses, third party liability, lost or stolen luggage, and cancellation and curtailment cover.
Emigration travel cover: if you're emigrating and won't have medical cover for a certain period, this cover is essential to secure you and your family as you make the often difficult and confusing transition.
Incoming travel insurance: For individuals looking to visit South Africa from abroad and want cover for everything from lost luggage to wrongful detention.
Santam – Travel Insurance
Product

Travel Insurance
A wide variety of cover

Speak to a consultant to tailor make your cover for you. You can cover your large traveling group or if you are a student you can get cover for you gap year abroad. They will look at your specific arrangements and give you the best advice.

Comprehensive cover

Their comprehensive cover includes state of the art medical care, baggage loss or damage and even hijack, hostage and wrongful arrest assistance and more.
Benefits of Santam
SOS from Santam is there when you need a helping hand. Be it a dead battery or a burst geyser they will be there to assist.
Specialist insurance - Santam offers insurances for a niche market from aviation to insuring your crop. If you are looking for something specific you can search for a broker and discuss your needs with them to get advice on the best cover for you.
Agriculture forms a large sector of our economy and Santam understands that cookie cutter insurance solutions may not be what farmers need so they have developed insurance solutions tailor made to the agriculture industry.
---
Get a quick online quotation.
TIC's website has been designed to make it easy for you to find all the information you need. Whether you need to figure out exactly why you need travel insurance, to begin with, or you just want to find the cheapest option so you can get your Schengen visa approved, their site will help you through it.
You can fill in your destination, trip duration, personal details, and a few other details and you'll get an automatic quote. If you're happy with what you see, you can then quickly purchase your policy online by card – and you're all done.
Choose the right TIC Travel insurance package
With so many flexible insurance packages to choose from you may feel a little overwhelmed but, don't be! TIC consultants are ready to help you pick just the right option in seconds.
Travel cover for business or pleasure
Whether you're taking an annual holiday with your family to Asia, are travelling solo to your dream destination, or have business overseas they'll offer you the right package with adequate cover, 24-hour emergency assistance, and reliable claim support.
Need additional cover
You may be aware that most travel insurance in South Africa does not cover you for sporting but TIC covers you for many of these automatically and lets you select additional cover for specific sporting activities.
Cover for business travel
There are a host of packages available to business and corporate travellers that will cover everything from baggage loss or damage to medical emergency care and repatriation. As long as you're not planning on partaking in manual labour during your business trip and are not over the age of 69 you'll be able to get your travel insurance policy online in minutes.
Ready to get onboard
Remember to carefully review your travel insurance policy schedule and get to know exactly what you are and aren't covered for. Once you're familiar with the details, save the document in a safe place and save TIC's emergency contact number and email addresses on your mobile phone and somewhere else you can access it if you lose your phone.
Customer Reviews & Testimonials
"
September 2021
They got you covered from business trips to family holidays or even if you just traveling solo!
Andre S
— Nelspruit —
December 2020
My job involves traveling through SA and if I wasn't covered by Santam travel insurance I would probably not do it, they are the best.
Shasha M
— Mossel Bay —
October 2021
Seeing that I'm just still a student I get amazing discounted traveling insurance by Santam.
Andile T
— Tembisa —
Santam Contact
Contact Number
E-Mail
Website
Physical Address
1 Sportica Crescent Tyger Valley Bellville,

Cape Town

Western Cape

7530

South Africa
Opening Hours
Monday

09:00 – 17:00

Tuesday

09:00 – 17:00

Wednesday

09:00 – 17:00

Thursday

09:00 – 17:00

Friday

09:00 – 17:00

Saturday

– Closed

Sunday

– Closed