Quick insurance claims
Easy online application
Affordable premiums
In-page navigation
---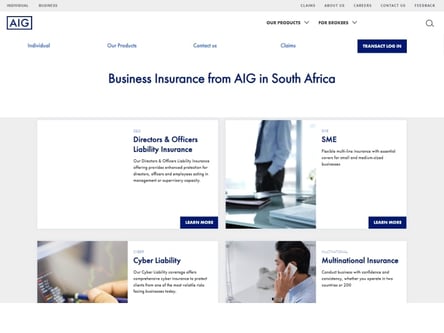 Author AIG. Screenshot of AIG website.


[Accessed February 7, 2023]
About AIG
American International Group, Inc. (AIG) is by far one of the leading global insurance firms in the world.
For those business clients in South Africa, they can assist with their business insurance needs. They use their global leverage and strength to provide a service to clients in South Africa which takes a bigger picture of what clients need from a world-renowned service provider.
Business insurance growing since 1962
AIG established its services in South Africa in 1962, as an insurance company. Since then, they have claimed a top place on the insurance ladder, with their unique service delivery, and cover options that meet every need and every industry.
Their business insurance experience goes way back when risks were high, and technology was not heard of. Since then they have evolved into an extraordinary service provider. They know how to create a business insurance which will suit individuals and their business, covering the risks, and paying out fast when needed.
AIG Services
AIG uses the best technology and platforms to engage in speedy steps and avoid the wastage of time that is so precious to business owners.
They offer each new business client a customized business insurance plan depending on their business industry, the risk management profile outcome, and the worth of the business assets.
Business insurance value-added benefits
With the little added benefits and value adds such as Legal Assist, Roadside Assist, and Emergency Car Hire, AIG business clients get everything they need under one umbrella cover. AIG will create business insurance that is in line with one's business needs.
Business insurance in South Africa
When partnering with AIG Insurance, one's business can only flourish and rise to great heights. They aim to provide business insurance in South Africa, which meets clients' business needs, covering risks, and providing streamlined processes from application to claiming.
AIG – Business Insurance
Product

Business Insurance
SME

Flexible all inclusive insurance for small and medium business

Cyber Insurance

In our world of full time technology anyone may have access to your information. With AIG you can insure against cyber crimes
Benefits of AIG
Multinational insurance - AIG will assist you with insurance for your business dealings both in South Africa and the rest of the world.
Property insurance - If you own your business building it needs to be insured against fire or sever weather damage. If you are renting you should make sure that the owner has insurance so that repairs can be made and you can get back to business as soon as possible.
Special insurance - includes marine cargo insurance.
---
Taking your business further each day
Business insurance from AIG will keep one's business running smoothly, without disruption should anything happen.
They have thousands of business clients, who rely on their business insurance cover and they offer quick online business insurance quotes for all. With over 50 years in the industry, they have gained through trials and errors, the best way to approach and implement a risk cover that keeps one's business going on as normal, even during an insurance claiming process.
Because they are not confined to the South African market, their global presence has allowed them a broader perspective and leverage to offer their clients in South Africa a better and more lucrative business insurance option.
Quick and simple Business insurance process
Throughout their partnership with their clients, they create simple processes and easy-to-use platforms, to avoid any frustration and waste of time. They know that their clients have a business to run, and don't need to waste valuable time trying to get car and business insurance matters sorted out.
For AIG to provide the perfect process whilst submitting business insurance claims, they like to advise their clients to use their email as a source of communication.
Business insurance claims paid in 24 Hours
Claims sent to AIG for processing usually fall into the process within 24 hours of receiving all documentation required from the specific member. Once AIG has received a claim they will notify the member and keep them updated on the progress of the claim cycle. However, this procedure can be delayed if important information is missing.
AIG gets assistance from their global claims department who are extremely experienced with the South African market and assist with the mitigation process.
Online business insurance portal
Their clients always have the option of calling whenever they need to ask questions or query anything on their insurance policy. All claims are followed through in the same way, through their online claiming portal, which drives efficiency and speeds up the entire process. They provide clients with all the necessary claim documents online making life a lot easier.
Business insurance for all areas of business
AIG's business insurance in South Africa covers all aspects of one's business, including business vehicles, machinery, office equipment as well as third-party and public liability options which can be discussed with individuals during the application stage. Get covered, and don't worry about days lost, or time wasted when something should happen that requires a business insurance cover.
Customer Reviews & Testimonials
"
October 2021
Thank you, AIG for the quick claims payout and assistance when needed. I am so happy to be covered with AIG's business insurance.
David W
— Braamfontein —
September 2021
An efficient business insurance company that is available to answer questions whenever needed
Katlego Y
— Sandown —
September 2021
Great business insurance cover and benefits! I am so happy to be covered by an experienced business insurance provider.
Nazreen I
— Sandton —
AIG Contact
Contact Number
E-Mail
Website
Physical Address
88 Stella St, Sandown

Johannesburg

Gauteng

2031

South Africa
---
Postal Address
PO Box 31983, Braamfontein, 2017, South Africa
Opening Hours
Monday

08:00 – 16:30

Tuesday

08:00 – 16:30

Wednesday

08:00 – 16:30

Thursday

08:00 – 16:30

Friday

08:00 – 16:30

Saturday

– Closed

Sunday

– Closed