Best insurance deals
Quick online application
Get a quote online
In-page navigation
---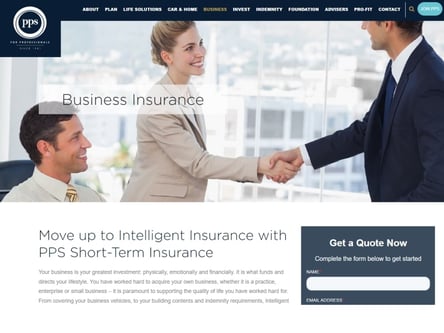 Author PPS. Screenshot of PPS website.


[Accessed February 7, 2023]
About PPS
Professional Provident Society, also known as PPS is an insurance company that has been serving professionals for the last 80 years.
Offering short-term insurance policies with a focus exclusively on graduate professionals, PPS business insurance in South Africa places value on providing insurance for those with more to protect.
Business insurance South Africa
From business vehicles, building content to indemnity requirements, PPS Intelligent Insurance is there to determine the risks that need to be covered. With value-added services, PPS Business Insurance members can choose to cover multiple vehicles and personal areas of concern that one may not always see as influential towards the success of an up and coming or well-established business.
Pro-Insure Business insurance
Within the Pro-Insure Business Insurance policy, businesses will be offered:
Fire, office contents, as well as business interruptions cover
Electronic equipment and buildings cover
Accounts receivable and goods-in-transit cover
Public liability cover
Money, fidelity, and theft cover
Glass and accidental damage cover
Business all-risk cover
PPS Services
Businesses under the Business Assurance policy will be provided with a variety of services.
These include:
Buy and Sell Cover, which insures business owners in the event of death, disability, or critical illness in order for the surviving members to be able to afford to purchase the deceased interests. This allows for the business to continue operating successfully.
Key person cover, which covers employees who provide a service and knowledge within the business that is crucial to business operations, in order for the business to find a replacement if needed.
Credit loan account, which allows for any personal finances that the business owners contributed to the business to be returned to the owner through the process of taking out a policy on the life of the business owner. This will cover the amount owed to the owner. These funds will then be used to settle any debts to avoid possible claims against the business or the estate of the deceased and provide fewer future expenses for the business to cover.
Contingent liability cover, which, in the event of death, critical illness, or disability, covers the settlement of a business loan where a business owner has signed a surety. This will therefore release the estate of the individual from future settlement claims. As a result, the business can secure credit facilities if need be for future expansion and avoid the event of becoming insolvent through meeting all financial obligations.
PPS – Business Insurance
Product

Business Insurance
Fire, office contents and business interruption cover

You have put many hours and a lot money into your business. Ensure that you can continue to earn even after a fire, break in or damage from sever weather

Public liability cover

Have the funds to pay for legal costs if something may happen to someone in your building
Benefits of PPS
Car and home insurance - when you combine your insurances you can save. With PPS this is easy as they offer comprehensive car and home insurance
Emergency assistance - PPS have partnered with service providers to offer home and road side emergency help.
Life insurance - Cover yourself and your family with a death cover insurance policy. You can add disability and critical illness cover.
---
PPS value added services
PPS Business Insurance in South Africa offers a wide range of services within their business insurance policy, as well as other policies.
For graduate professionals to continue on their business ventures, PPS Short-Term Insurance offers a variety of Value Added Services and advantages of business insurance such as:
Licence Disc Protect, which is designed to remove the hassle of license disc renewals. A quick and convenient option will be provided for all license discs to be renewed.
Fine Protect, which is extremely beneficial for business vehicles to avoid any issues on the road. Members of Fine Protect are entitled to the services of proactive notifications of fines posted onto www.paycity.co.za, as well as other databases that allow automated integration. A benefit of this protection means that members will never have to pay any penalty fees or fines for expired vehicle license discs.
Protect Me, which offers a convenient mobile panic button that can be activated anywhere, anytime. This panic button can be activated from the PPS App.
ID Protect, which offers valuable benefits such as an alert of any fraudulent activity on the member's identity, such as an event when someone tries to obtain credit with the use of the member's personal details. This category of insurance can be extremely vital when maintaining positive credit scores which are vital for future business operations and maintaining a credible business reputation.
Additional Business insurance advantages and cover
Within any business, one needs to make provision for multiple scenarios. Business Assurance from PPS provides businesses with cover relating to those uncertain times of risk and potential financial consequences, if for example, an essential business member becomes critically ill, disabled, or dies.
Business insurance claims
For all PPS members to view individual policies, view cover details or submit a claim, one can make use of the PPS Short-Term Insurance App. The app can be found on Google Play Store, as well as on the Apple Store.
Business Insurance quotes and application
To sign up and get a business insurance quote with PPS Business Insurance in South Africa, one can visit pps.co.za and complete the required information such as name, email address, and contact number under the heading, "Get a quote now", within the Business Insurance category.
After all necessary information has been provided, select "Call Me Back", to have one of PSS's professional financial advisors make contact and get all that is important covered in no time.
Business Insurance cover made easy
Furthermore, PPS has designed the application process for business insurance in a direct and uncomplicated manner.
PPS professionals will accommodate business owners by drawing up one quote for the business which will include all the parties and policies related to the specific business insurance needs of the business. Satisfied business owners can easily sign up with this one quote, one application process and ensure optimal cover is provided for all essential business needs.
Customer Reviews & Testimonials
"
August 2021
I travel a lot with gold and expensive jewelry and with PPS business insurance i can travel with a mind at ease.
Grand M
— Humansdorp —
May 2020
If you are supplying your business with loans from your own account they got you covered if something happens.
Leratho U
— Benoni —
PPS Contact
Contact Number
E-Mail
Website
Physical Address
PPS for Professionals 6 Anerley Rd, Parktown

Johannesburg

Gauteng

2193

South Africa
Opening Hours
Monday

08:00 – 19:00

Tuesday

08:00 – 19:00

Wednesday

08:00 – 19:00

Thursday

08:00 – 19:00

Friday

08:00 – 19:00

Saturday

– Closed

Sunday

– Closed