Discovery Business Insurance
Affordable business cover
Affordable premiums
Apply online
In-page navigation
---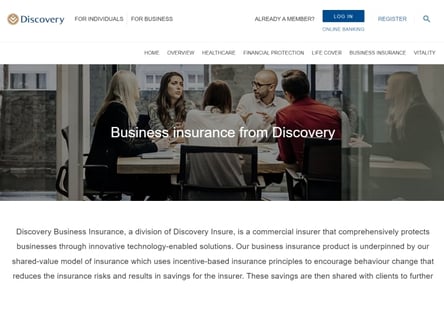 Author Discovery. Screenshot of Discovery website.


[Accessed February 7, 2023]
About Discovery
Discovery Business Insurance is a service designed to allow clients and businesses to operate at an optimal level whilst being assured that all important aspects of the business are covered.
Through comprehensive business insurance and innovative technology solutions, Discovery Business Insurance offers a 24/7 claims service, including immediate IT assistance. With additional features offered such as cashback on data and the return of monthly vehicle premiums, the incentives are never-ending and the rewards simply don't stop.
Property and Accident Insurance
Business assets are one aspect that makes a business valuable and in need of protection. With Discovery business insurance, the Property and Accident category offers cover for the business property against loss, damage, or theft. This includes:
Office contents
Accounting records
Electronic equipment
Business all risks
Money
Glass
Goods in transit and business interruption
Along with this, in the case of an insured event, the cover is offered for theft or embezzlement of money, stock, or property by employees.
A special feature that must be highlighted here, is the Advanced Risk-Assessment Technology and Thermal Imaging, which is used to detect electrical faults and provides online tools to self-assess risk.
Business Interruption Insurance
With the unpredictability of life, one can never cover too many aspects of a business when it comes to ensuring a smooth flow of business operations. With business interruption insurance, businesses are covered for those unforeseen moments that can bring operations to a halt. Cover in this regard is offered for:
Material damage to property
Theft
Damage to electronic equipment
Theft of or damage to insured vehicles
Discovery Services
Getting from A to B could not be more essential for any type of business when it comes to meeting customers' needs, which means business vehicles need to run at an optimal level.
With Discovery Business Insurance, comprehensive insurance cover for all business vehicles is offered, as well as special rewards and features.
Cover and special features
Online Fleet Portal: This allows businesses to track company vehicles in real-time and an opportunity to analyze and manage the driving behavior of company drivers.
Retail Value Booster: In the unfortunate case of an accident where the business vehicle is written-off, stolen or hijacked, businesses have the opportunity to get the business vehicle's retail value plus 15% back.
Write-Off Accelerator: This allows businesses to write off business vehicles at a lower damage level.
Some good incentives never did any harm when it comes to encouraging drivers to excel whilst on the clock. This is where Discovery business insurance in South Africa offers businesses a range of rewards that entitles businesses to:
Getting up to 30% of business vehicle premiums back.
Get up to 50% discount purchases at Tiger Wheel and Tyre when purchasing tyres, batteries, and wiper blades.
Drivers can also get weekly rewards in the form of airtime or data vouchers, a meal, coffee, or a smoothie.
The road can be a dangerous and unpredictable place to be, which means that safety is key for drivers to be able to function efficiently and guarantee a productive day within the business.
Through the Unique Safety Features, businesses have access to:
Impact Alert: This allows for immediate emergency assistance if Discovery Business Insurance detects severe impact to the vehicle insured, despite the possibility that the driver may not be contactable.
Find My Vehicle: One of the tech-savvy elements of Discovery Business Insurance is the use of the Vitality Drive online fleet portal, which can find any business vehicle in real-time.
Vehicle Panic Button: This above and beyond safety feature will ensure all drivers are accompanied with a sense of security whilst out on the road. The feature simply turns the driver's phone into a panic button which allows them to request immediate assistance in the case of a vehicle emergency.
Discovery – Business Insurance
Product

Business Insurance
Insure your fleet

Get comprehensive car insurance for your fleet and get money back for driving well

Partner Network

Over and above comprehensive business insurance, discovery has partnered with leaders in each industry to offer business advice to help you grow.
Benefits of Discovery
Bank - Discovery have brought their industry leading expertise into the field of banking. You can enjoy benefits of everyday banking and saving with them.
Medical Aid - Discovery offers comprehensive medical aid that can cover you in case of an emergency like a car accident. You can also add gap cover to your portfolio of insurances.
International travel - cover for medical emergencies while traveling is included in your cover as an added benefit.
---
Apply for Discovery Business Insurance now
Business Insurance in South Africa does not always have a border, which means businesses need to be insured for the threat of the great beyond of the online world, known as Cyber-risk.
Cyber Insurance explained
Discovery offers cover for the business or a third party in the case of encountering a loss due to an insured cyber security event. Along with this, Cyber-risk assessment and management solutions are offered at a discounted rate.
Let's Talk Legal
Any business owner knows that legal matters can feel like lethal matters at times, which makes the topic worth paying attention to. Discovery Business Insurance in South Africa offers legal services by providing businesses access to:
An on-call lawyer.
Legal constitutions.
Services such as contract drafting are made available online and through the call centre.
Commercial compliance and audit reports.
Reputation is everything
Through Crisis and Reputation Cover, businesses are covered for multiple areas of concern when protecting the brand of the business. Cover in this regard is offered when a crisis jeopardizes the reputation of the business and as result, 24/7 access to a global reputational specialist will be provided. Additionally, the reputation specialist will also provide a full response strategy following the crisis and a basic cover of R50 000 will be included in the business recovery plan at no additional cost.
Social situations in businesses
Discovery Business Insurance has no limit to the advantages of business insurance when it comes to protecting businesses and that includes the social side of life. Social Media and Multimedia Liability Cover ensure that businesses are covered in the case of:
Liability as a result of social media and multimedia activities.
Legal defence costs, as well as wrongful arrests and defamation claims resulting from the event at hand.
Discovery Business Insurance in South Africa highlights the advantages of business insurance, which can be seen as a vital element to protecting business property, business operations, business brands, business employees, business reputation, and ultimately business success.
Through the vast range of rewards factored into the different categories of business insurance through Discovery, such as Vitality Drive For Business and many more, it comes down to a win-win situation.
How to apply for Discovery Business insurance
To apply for Business Insurance through Discovery, simply visit discovery.co.za and click on "GET QUOTE" and fill in the necessary fields to get an online insurance quote today and take one step closer to providing your business with the ultimate protection.
Customer Reviews & Testimonials
"
May 2020
Owning your own company is very stressful especially when it comes to all your valuables thanks to discovery business insurance I'm completely covered in cases of loss
Kagisho R
— Limpopo —
August 2021
With Discovery's luxury insurance I even have my business's stationery covered I mean they take care of the smallest things.
Londela N
— Cape Town —
February 2020
You might think because you have a small business , insurance is not important? You are wrong! Discovery even cover the smallest businesses at reasonable prices.
Linda X
— Umslanga Rocks —
Discovery Contact
Contact Number
E-Mail
Website
Physical Address
1 Discovery Pl, Sandhurst, Sandton,

Johannesburg

Gauteng

2196

South Africa
Opening Hours
Monday

08:00 – 17:00

Tuesday

08:00 – 17:00

Wednesday

08:00 – 17:00

Thursday

08:00 – 17:00

Friday

08:00 – 17:00

Saturday

09:00 – 14:00

Sunday

09:00 – 14:00