Tailor-made insurance
Easy online application
Quick claims process
In-page navigation
---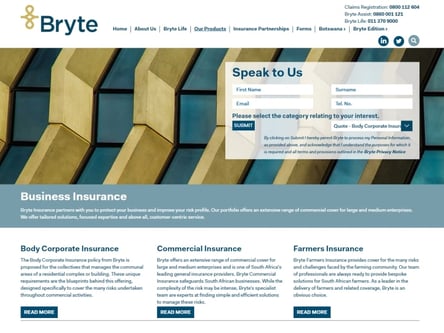 Author Bryte. Screenshot of Bryte website.


[Accessed February 7, 2023]
About Bryte
Bryte business insurance has been insuring companies since 1965 and keeping them secure against the possible risks that come with running a business.
They have a footprint that reaches nationwide, with the capacity and the capability to assist large corporations with their corporate insurance needs.
Business insurance with a global presence
Bryte has the financial stability to secure the payments to their clients, with a listing on the JSE stock exchange, one's business is in safe hands.
They have a global presence covering over 170 countries, leveraging off their partners around the world for their assistance when covering members who have businesses that are situated further than South Africa.
Insurance that understands business needs
Their extensive knowledge of the industry ensures that they deliver on the expectations of their members every time whether they need business travel insurance or asset protection.
Bryte Services
When it comes to protecting members from risks, Bryte has a complete business insurance solution to keep one's business safe.
Customized Business insurance in South Africa
Financially, Bryte offers a beneficial cover that will cover one in the event of any damages, loss, or violation within their four walls.
They customize each member's business insurance through an analyzed look at what the individual needs to cover, and what specific risks could prevent one from keeping their company running smoothly.
They cover a wide scope of business needs:
Short term Insurance
General Business Insurance
Business Liability Insurance
Corporate Business Insurance
These options protect a business owner's assets, employees, and third-party liability claims. Bryte will keep one's business insurance policy in line with one's business budget, and industry needs.
Bryte – Business Insurance
Product

Business Insurance
Flexiflite Insurance

Bryte has a solution for your personal and business insurance all in one umbrella cover

SMME insurance

Bryte understands that insurance may not be at the top of your list but it is still important to have it in place. Let their many years of expertise work for you.

All industries

Bryte has business insurance solutions for all industries.
Benefits of Bryte
Specialist insurance with Bryte includes your fine art and rare jewelry as well as marine insurance and so much more.
Life insurance - get your comprehensive life insurance cover with the added benefit of funeral cover options from Bryte
Travel insurance - whether you are travelling for the first time or you are a seasoned traveler or if you are traveling simply for pleasure or business Bryte has you covered, no matter your needs.
Comprehensive online solutions - Bryte's website has a wealth of information as well as all the forms.
---
Bryte covers your business financially for the future
Bryte business insurance in South Africa makes all their business processes efficiently convenient for all members.
Because they work on a global platform, their investors and members expect an extremely high level of service delivery through their teams which are situated throughout the world.
High levels of service
In South Africa, one can expect the same level of service, with the best-practice protocols and processes all uniquely simplified and customized to suit the businessman or woman who needs cover.
Every claim they handle is treated with the best quality processes, ensuring nothing slips out the gaps, and that their members get the benefits they were promised when taking out their business insurance policy. Bryte has over 8000 dedicated staff members throughout their branches globally.
Experienced and qualified Business insurance staff
Each staff member is completely experienced and qualified in their specific area, allowing members to get the expertise and service delivery they need and want from their insurance company. Business insurance claims will be assigned to a designated claims coordinator, to handle one's business cover claim personally, with fewer costs to one's business and in the end, save time.
Business insurance ready to assist
All one needs to do is contact one of the Bryte experts, and they will set up a face-to-face meeting to discuss where to go next with the process. They will start with a claim process as soon as possible, so members can carry on with running their business and not be worried about the delayed time for whatever they are claiming on behalf of their business.
They deliver on their members' expectations to keep their business covered in the event of risk, and their customer care goes beyond what one expects. Bryte business insurance takes a global outlook on protecting businesses, no matter what the industry or size of a company may be, and understands the needs of all business owners.
Business insurance based on individual needs
Bryte understands that every member has different needs and their business insurance options are based on the individual needs of their members. They take into account the specific needs and portfolio of your business, and what needs to be insured or covered, to determine what kind of business insurance in South Africa one needs, and to calculate the value of what is being covered.
Business insurance application and claims
With every individual that Bryte assists, they can be assured that members will get the service from a team of experienced customer-centric specialists that they deserve. They will assist individuals with their business insurance processes from getting an online insurance quote, to completing an application and claiming, no matter what individuals need to be insured for, no matter where they are in the world, and no matter what business they have. Bryte can assist today.
Customer Reviews & Testimonials
"
October 2021
Great guidance through the application process by friendly insurance agents. I am so happy to have business insurance with Bryte.
Paul S
— Midrand —
October 2021
Several insurance options to choose from to get the most out of a business insurance policy! Thank you Bryte for helping me secure my business for the future.
Patricia A
— Sandton —
October 2021
The success of my business was taken into consideration with Bryte's quick claims payout system. I can run my business stress-free now that I have business insurance.
Vuyani D
— Kensington —
Bryte Contact
Contact Number
E-Mail
Website
Physical Address
15 Marshall St, Ferreiras Dorp

Johannesburg

Gauteng

2001

South Africa
---
Postal Address
PO Box 61 489, Marshalltown, 2107, South Africa
Opening Hours
Monday

08:00 – 17:00

Tuesday

08:00 – 17:00

Wednesday

08:00 – 17:00

Thursday

08:00 – 17:00

Friday

08:00 – 17:00

Saturday

– Closed

Sunday

– Closed