Business cover up to R100m
Quick online application
Get a quote online
In-page navigation
---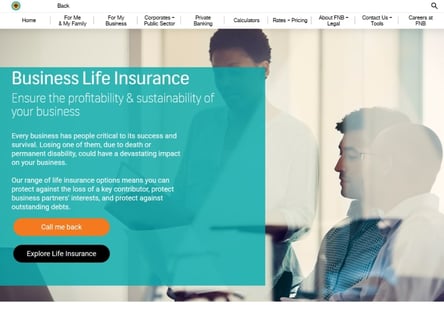 Author FNB. Screenshot of FNB website.


[Accessed February 7, 2023]
About FNB
FNB Business Insurance in South Africa offers cover for every business element imaginable.
From general insurance to industry-specific cover, as well as group funeral plans, FNB caters to every aspect that relates directly to the success of a business and has no hierarchy for importance but rather considers all elements as vital.
With the service of 30 FNB Insurance Broker branches nationally, FNB business insurance offers specialized and reliable insurance advice through the process of getting to know the business in question to understand the risks that could impact success rates.
Types of Business Insurance
FNB business insurance offers cover for the following industry-specific types of business:
Liability and Professional Indemnity Insurance
Commercial Property Insurance
Aviation Insurance
Marine Insurance
Heavy Commercial Vehicle Insurance
Goods in Transit Insurance
Construction and Engineering Insurance
Guarantees
Debtor Finance Insurance
Agricultural Insurance
Wildlife Insurance
Medical Practice Insurance
Retail Insurance
Asset-based Finance Insurance
FNB Services
There are many advantages of Business Insurance in South Africa with FNB.
As a whole, FNB business insurance offers affordable cover for the basics for businesses in the event of unforeseen circumstances such as accidents, fire, theft, third-party claims, where, for example, property, stock, tools, and money may be jeopardized.
Employee Group Funeral Plan
Employees are the foundation of any business and in saying that, all business owners need to ensure their foundation stays strong. With FNB Business Insurance, there is no need for any medical examination before covering an employee. Each employee receives the same amount of cover and as an additional bonus, the more people that are covered results in more discount.
Furthermore, the plan covers South African citizens as well as Foreign Nationals with passports that reside in South Africa, with double the amount of cover paid out in the event of accidental death.
FNB – Business Insurance
Product

Business Insurance
Critical person insurance

Mitigate the cost of loosing a vital employee such as the CEO with critical person insurance that will protect against death and disability.

Contingent Liability Insurance

With this insurance you can be assured that your debt will be settled if something happens to your surety

Buy and Sell Insurance

This will allow you to buy out the shares or interest of your business partner
Benefits of FNB
Banking - FNB is a business banking partner that has been helping businesses grow for many years. They are leaders in the field of business banking.
Digital FNB - FNB offers you completely digital solutions with its innovative app and online banking. Most application and transactions can be done from the palm of your hand or the comfort of your home.
Banking - FNB is one of the leading banking institutions in South Africa. This institution is able to offer you options for loans, savings and investments as well as cutting edge foreign exchange solutions as the official partner to Pay Pal.
Mortgage or bond insurance allows you to keep a roof over your family should the worst happen.
---
Apply for business insurance with FNB now.
Buy or Sell Insurance ensures that in the event of death, the surviving partner of a business has the opportunity to buy out the share of the business without causing any disruptions within the business operations.
Financial protection is offered through FNB's Business Credit Protection Plan which provides cover for even more unforeseen circumstances. In these circumstances, the cover will be offered in the form of:
Business debt paid in full - In the event of death, terminal illness, or disability.
Minimum monthly repayments covered - In the event of temporary disability, minimum monthly installments across all insured FNB Business credit facilities may be paid for up to 12 months.
One premium and multiple products covered - Pay a single premium and cover will be offered over a combination of FNB Business credit products such as:
Overdraft
Revolving Loan
Term Loan
Credit Card
Business life insurance
To avoid business interruption, FNB Business insurance offers Key Person Insurance, which ultimately pays out a 100% cash lump sum to the business to help take care of the financial impact, occurred in the event of:
Death
Terminal illness
If the employee becomes permanently disabled and is unable to perform their duties within the business.
Life cover in these circumstances can pay out an amount of R200,000 to R100 million, depending on the chosen plan. Within the category of Business Life Insurance, FNB Business Insurance in South Africa further offers Contingent Liability Insurance which aims to protect the creditworthiness of the business by settling any debt incurred in the form of credit facilities or business loans.
Business interruption insurance
No matter how popular a product is, or how essential service can be, one can never say never when talking about the topic of business interruption. As part of FNB Business Insurance, FNB offers affordable business interruption insurance from just R79pm.
Business Interruption Insurance is vital, no matter how big or small the business. For those moments when cash flow is a problem, FNB's Cashflow cover will make sure to eliminate any interruptions that may affect the smooth running of the day.
Business interruptions can have a heavy impact and lasting effect on any business and with FNB Cashflow cover, all businesses insured, will have their cashflow covered by paying out a daily cash sum to assist in stabilizing the business, in the event of any interruptions that last more than three days.
Additional business services and benefits
In addition to the essential elements of business insurance, FNB offers guidance in the form of in-house legal representation for all business-related matters, as well as assistance in planning and estate or drafting a will. These features further offer insurance of assets and business functionality in unforeseen circumstances that can arise anytime. As for benefits, businesses will receive a percentage of their monthly premiums back in the form of FNB eBucks.
How to apply for a Business insurance quote
To sign up and get an online insurance quote with FNB Business Insurance in South Africa, simply visit fnb.co.za and click on "Contact us".
Complete the necessary fields according to the category in question and you will receive professional guidance from an experienced specialist who will investigate, advise and construct the right business insurance plan according to the business requirements cost-effectively and efficiently.
Customer Reviews & Testimonials
"
March 2021
They know how busy life gets running your own business that's why getting a quote is simply one click away!
Johnathan B
— Outshoorn —
October 2020
I had a break-in in my shop and they actually replaced even the money I had on books that was stolen.
Carrey H
— Free State —
June 2020
I have my father's small business on my business insurance premium as well. They are so helpful making my life easier only having to pay one premium for 2 businesses.
Mandla M
— Brakpan —
FNB Contact
Contact Number
E-Mail
Website
Physical Address
3, First Place, Kerk &, Simmonds St, Bank City,

Johannesburg

Gauteng

2000

South Africa
Opening Hours
Monday

09:00 – 15:30

Tuesday

09:00 – 15:30

Wednesday

09:00 – 15:30

Thursday

09:00 – 15:30

Friday

09:00 – 15:30

Saturday

09:00 – 11:00

Sunday

– Closed