Affordable insurances
Easy online application
Get a quote online
In-page navigation
---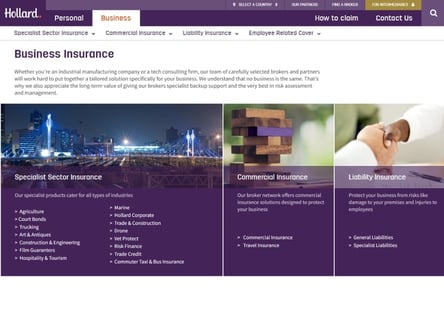 Author Hollard. Screenshot of Hollard website.


[Accessed February 7, 2023]
About Hollard
As one of South Africa's largest insurance companies, Hollard can provide insurance solutions to meet the needs of businesses, no matter what size.
They also provide an impeccable value-added solution comprising of not only the best possible pay-outs but also the resources of a team with a culture that is likely to be a perfect fit for any business.
Business insurance in South Africa
Hollard is a privately owned business, which enables them to provide an individual service targeting each members' specific needs, without input from other partners. They work directly with members, to create the perfect business insurance that will keep businesses financially afloat when risks get a little higher.
Business insurance with a great track record
Their track record of success over the years gives their new members the peace of mind that they will deliver on all expectations and more. Business owners should not delay in covering their business and assets, but rather sign up with Hollard business insurance in South Africa, as they will protect the livelihood of the business while it continues to thrive.
Hollard Services
Hollard is experienced in the business sector and offers life, funeral, and auto insurance.
They provide thousands of companies the peace of mind that every aspect of their business is covered financially should something happen. They provide individual business insurance benefits for each member, targeting their main risk areas, and looking for a solution that will benefit them in any event.
Business insurance that covers all
Employees, equipment, and finances are all elements identified to create business insurance that will save and assist one's business when things go wrong.
Each member they take into the Hollard family is provided with no less than impeccable service delivery. Quality through their team has earned Hollard the distinguished name that they have in South Africa.
Customer-orientated Business insurance
Hollard is customer orientated in that they are focused on each member, always go the extra mile to keep them covered, and treat each member with the VIP service they deserve.
Hollard – Business Insurance
Product

Business Insurance
Specialist Business insurance

Hollard offers you the opportunity to look at their offerings that are specific to your sector. From marine to taxi they have you covered

Liability Insurance

It is always important to know that you are able to protect yourself and your business. With liability insurance from Hollard you will have the finances to afford a lawyer if needed.

Protect you employees

With tailored employee cover you will be able to assist with compensation or medical bills should an accident occur.
Benefits of Hollard
Brokers - If you feel that you need professional face-to-face advice about what insurances you need for your business, then you can speak to a Hollard broker. They have people available country wide who will be able to assist you.
Travel insurance from a company that understands the post Covid-19 world that we live in and all unexpected extra travel costs that this bring with it. Hollard also offers Business Travel insurance for you or those in your company that have to be globe trotters to help your empire grow.
Cover for your car - let Hollard help you with not only comprehensive car insurance but also extended warranty from their various partners. They can assist you to cover your entire fleet of working vehicles at competitive rates.
---
Hollard provides business insurance to keep you stable
Hollard pride itself on their competency and efficiency in providing and managing business insurance policies for their members and they understand the core processes and risks involved in any business, no matter how big or small.
Business insurance provides security
Hollard strives to capture and cover business risks in their business insurance policies which are designed with business security in mind. They offer everything from vehicle insurance to business travel insurance. Through their years of experience in the insurance industry, they have learned how to adjust rates with the changing climate of the business world.
Advantages of Business insurance solutions
They customize solutions for their business insurance members to ensure they are getting the ideal policy that is in line with their specific needs, and not just general cover. Hollard will support the unique objectives of each business throughout their partnership with each member, as they understand that obtaining a policy to cover one's business may need a personal touch.
Business insurance quotes and application
Individuals can apply for business insurance through Hollard directly, by calling Hollard and one of their consultants will arrange to discuss individual needs in detail. One can also get an online business insurance quote by visiting their website. Should any medical examinations be needed throughout an application process, Hollard will arrange for a nurse to come to the specific individual.
Business insurance with a speedy claims process
Hollard is always looking at making the process of their services easier. Concerning paying out claims, they process claims quickly to allow members the ability to carry on with business as usual. The terms and conditions of their policy play a vital role in the risk of one's business and need to be made clear in order to protect one's business in the event of an incident.
The benefits of partnering with Hollard are tremendously valuable as a business owner. They will assist members in overcoming issues in their business that are at risk before they become a danger to the company's growth.
Business insurance that fits any business
With compliant sources, Hollard will put insurance standards in place which fit each business perfectly, to avoid vulnerability at the end of the day. Contact Hollard for sound advice today.
Customer Reviews & Testimonials
"
September 2021
The best business insurance in South Africa with great benefits!
Jacob E
— Parktown —
September 2021
A speedy claims process that allows a business to continue as normal. Thanks, Hollard for making my business's success a priority!
Pauline W
— Kagiso —
October 2021
I have a new level of security and peace of mind within my business thanks to Hollard's business insurance.
Siya Q
— Krugersdoorp —
Hollard Contact
Contact Number
E-Mail
Website
Physical Address
22 Oxford Rd, Parktown

Johannesburg

Gauteng

2193

South Africa
---
Postal Address
PO Box 87 419, Houghton, 2041, South Africa
Opening Hours
Monday

08:00 – 17:00

Tuesday

08:00 – 17:00

Wednesday

08:00 – 17:00

Thursday

08:00 – 17:00

Friday

08:00 – 17:00

Saturday

– Closed

Sunday

– Closed