Fixed insurance fees
Affordable premiums
Get an online quote
In-page navigation
---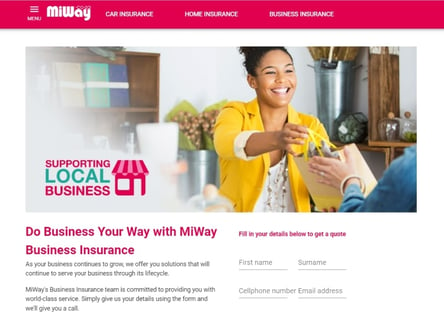 Author MiWay. Screenshot of MiWay website.


[Accessed February 7, 2023]
About MiWay
MiWay offers South Africans a direct approach to getting their business insurance needs to be met.
Their business insurance in South Africa will protect the risk areas of one's business, and cover individuals for theft, fire, flooding, damages, and more. They are known as one of the most approachable short-term insurance companies in South Africa, with the ability to provide quick, safe, and affordable services for members of any size, industry, and profile.
A unique approach to Business insurance
MiWay uses a unique way of providing a seamless service, by using technology as their base and form of communication, creating an efficient and fast process throughout every step of the journey with their clients.
Business insurance that saves time
MiWay knows how demanding a business can be, and a minute wasted on filling in forms and making appointments can take time away from making one's business thrive. They enable members to get everything they need to get their business insured, from the beginning to end, and all of this is available through online innovation.
MiWay Services
Business insurance from MiWay is an important cover that they provide to growing and established companies in South Africa.
MiWay Business insurance covers
Business vehicles - motorcycle, car, and van or truck cover
Goods in Transit
Business Liability
Protection against third-party claims
Business Personal Accident
Accidental death or injury of an employee
Items that were taken out of the office
Body Corporate
Plant and Machinery
Special purpose vehicles
Business insurance with fixed excess and more
The benefits of insuring one's business through MiWay allow members to get a fixed excess that can be adjusted accordingly by the member when needed. They provide the service of excellence and quality that one expects and they keep members informed about the processes and updates on new and exciting developments in the market.
MiWay – Business Insurance
Product

Business Insurance
Save money if you are traveling less

Comprehensive fleet insurance from MiWay includes saving, of up to 30% less, if your vehicles for some reason are traveling less

Staff dishonesty

With MiWay you can insure against losses incurred due to staff dishonesty

MiBusiness Assist

Let MiWay help you to reduce your business costs
Benefits of MiWay
Comprehensive car insurance - You can choose your level of car insurance to best suit your budget. You can insure for third party, third party, fire and theft, comprehensive or total loss insurance.
Home Contents insurance - you can get home contents insurance with affordable premiums and flat rate excess. If you apply online you also stand in line to receive one month's premium paid back.
Building insurance - Protect your brick and mortar structures against fire and severe weather as well as damage due to burglary.
Completely online solutions
---
MiWay protects your business with valuable insurance
Business insurance from MiWay provides business members with risk management that attends to their insurance needs.
Having a business can be scary when one thinks of the things that can go wrong, and can cause a financial impact on one's company.
All risk cover and Business insurance quotes
MiWay provides policyholders with an All Risk cover option, to ensure that one's business is covered for every event that could happen. This includes the cover for loss and damage of one's building and the unintentional contents. One can easily get an online business insurance quote from MiWay, should this option be of interest.
This cover includes options such as
Unspecified – An individual business might have machinery or equipment that is taken in and out of their premises on a day-to-day basis, making it difficult to specify the contents. This option is best suited for these situations. Specified - An individual can specifically list the items in their business which they want to include in their insurance cover.
Members can also choose the add-on products option, allowing them to add breakage of machinery, data and software reinstatement, and problems in electrical areas from power surges.
Get the best Business insurance available
Whatever option one chooses, MiWay will ensure they receive the best cover that suits their business in every way. Should one's business fall under threat from any damages or theft, MiWay's business insurance claiming process is made simple, to allow for a quick payout, so one can carry on doing business as usual.
Business insurance claims process
In the event of theft, members can get a report from the police station and attach it to their claim form which one can download from the MiWay website. Members can register their business insurance claim either through email at claims@miway.co.za or call 0860 64 64 64, and MiWay will assist with the process.
Business insurance available on the mobile app
MiWay also provides members with an easy-to-use mobile application, which also allows members to claim from wherever they are, at any time of day. A business insurance claim will be processed as soon as MiWay receives all documents, and a claim number will then be appointed to the member. MiWay doesn't only rely on technology to provide business insurance in South Africa to members but also has a team of experienced consultants who are there to guide members whenever they need assistance.
Business insurance that includes roadside assistance
MiWay provides business insurance members with emergency roadside assistance for their workers who travel on the road during business hours and business travel cover. They will guide business insurance members through all the processes and benefits.
End-to-end services from MiWay
Throughout their services, MiWay strives to maintain a quality service level of excellence and efficiency. All their business members receive an end-to-end service with the expertise of the MiWay consultants and the value from their service promise to all clients.
Customer Reviews & Testimonials
"
October 2021
Thank you MiWay for your friendly and helpful service. I am so happy to have my business covered with MiWay business insurance.
Caroline F
— Centurion —
November 2021
A great mobile app to use for business insurance claims. I am so happy with the speedy service that I get from MiWay!
Iminathi P
— Kagiso —
September 2021
Thanks to MiWay I was able to get my business up and running in a speedy time with the best business insurance in South Africa.
Pumeza W
— Midrand —
MiWay Contact
Contact Number
E-Mail
Website
Physical Address
48 Sterling Rd, Kosmosdal, Centurion

Johannesburg

Gauteng

0159

South Africa
---
Postal Address
PostNet Suite #382, Private Bag X121, Halfway House, Johannesburg, 1685, South Africa
Opening Hours
Monday

08:00 – 18:00

Tuesday

08:00 – 18:00

Wednesday

08:00 – 18:00

Thursday

08:00 – 18:00

Friday

08:00 – 18:00

Saturday

08:00 – 13:00

Sunday

– Closed