Business insurance online
Fixed premiums
No hidden costs
In-page navigation
---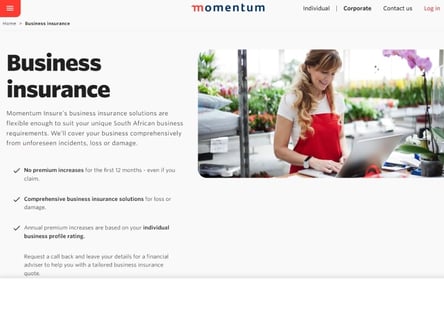 Author Momentum. Screenshot of Momentum website.


[Accessed February 7, 2023]
About Momentum
Momentum received its name in 1973, after a process of mergers from 1966, the date of which it was established.
Since then, Momentum Insurance in South Africa has provided businesses and clients with accountability, diversity, and excellence, innovation, integrity, and teamwork. Momentum offers a range of products and services, one of which is Business Insurance in South Africa.
Personalized Business insurance solutions
With a focus on suiting individual business needs, Momentum Business Insurance covers a vast range of unpredictable and unexpected circumstances and events. Momentum offers business insurance that is based around the needs and requirements of the business as every business is unique.
Advantages of Business insurance
Aside from the top-notch quality offered through Momentum Business Insurance in South Africa, are the added benefits of guaranteed premiums, no hidden costs, and Momentum assistance.
This means that business owners will be guaranteed no increase in premiums for the first 12 months, even if a claim is submitted. Excesses are fixed, which means that no hidden costs will be implemented and Momentum Assist is readily available to cater to all roadside, medical, and legal matters on the road and at the office of the business.
Furthermore, Momentum offers advantages of business insurance which includes:
Comprehensive business insurance for any loss or damage within the business.
All annual premium increases are based on the individual business profile rating.
Momentum Services
For those businesses who want to maximize their cover, Momentum Business Insurance offers Add-On Cover which provides a range of add-on options that businesses can select to add to their existing cover if desired.
These add-on cover options offer:
Business all risk insurance-Well suited for businesses with the need to travel often to a different location, this offers cover for business items that are regularly removed from the insured building for use in other places.
Public liability insurance-This covers the business owner and any individual associated with the business, for damages that they may be held legally liable to pay after an insured incident.
Fidelity Insurance-Trust can never be 100% guaranteed in any business, but with this Add-On Cover option, the business is covered for any losses due to fraud or theft by your employees, directors, or anyone else within the business that may be a suspect.
Money insurance-Fundamental to any business is the capital, which will be covered in the form of any money-related items such as cash, cheques, postal and money orders against loss or damage inside the business premises.
Good-in transit insurance- This covers businesses for any goods used as part of the business while they are transported within South Africa.
Motor traders insurance-This is beneficial for businesses within the motor industry that are seeking cover for damages that the business is liable to pay for after an incident relating to a motor-trade business.
Glass insurance-Replacing the glass front door can seem like a costly expense, which makes glass insurance rather convenient to cover all glass items, such as windows, doors, mirrors, furniture, and all fixed glass within the business premises.
Momentum – Business Insurance
Product

Business Insurance
Business car insurance

Cover your entire fleet of vehicles from truck, busses and scooters, against loss and damage

Buildings insurance

Insure your brick and mortar structures against sever weather, fire and damage from theft.

Office contents

With products and many electronic work stations it is vital to insure your office contents
Benefits of Momentum
Momentum App allows you to view all Momentum products from your phone. You are able to keep track of your Multiply points and you can submit claims via the app.
Online quotes make it quick and easy to get covered. If you would like some additional advise from the industry leaders you can simply request a call back.
Multiply Rewards offer you the opportunity to earn discounts and cashbacks for living your everyday life and doing all the things you would usually do.
Life cover - Momentum offers comprehensive life cover for you to add to your portfolio. They also offer disability and critical illness cover and funeral cover.
---
Get affordable business insurance with momentum
Momentum offers a user-friendly process when enquiring about a business insurance plan to cover one's business needs.
Those looking to apply for business insurance in South Africa can head to momentum.co.za and select the "Request a call back" button. Simply complete the necessary fields and select "Submit" to make use of the obligatory free call back service from one of Momentum's professional financial advisors.
Stand-Alone Business Insurance Cover
Whether a business is run out of a food truck, or perhaps is starting to see the potential for expansion in the near future, business insurance is essential to secure future prospects and maintain customer service. Within Momentum Stand-Alone insurance, those starting up a new business venture or looking to protect what has already been built will be covered for:
Business car insurance-An essential element to any business is the process of getting from A to B. With business car insurance, the cover is provided for all registered vehicles that are used to run the business against theft, damage, and lost-key replacement.
Buildings combined insurance-One can never predict when the unpredictable may take place. In these unforeseen circumstances, businesses will be covered for offices, outbuildings, fixtures, and fittings against damage resulting from a force of nature, explosion, or leakage.
Office contents insurance-This cover all movable property such as furniture, which is inside the building of the business address. This cover is convenient for avoiding business interruption.
Commercial fire insurance-This covers the business's building, permanent fittings, and goods against loss or damage which could be caused by fire, acts of nature, and explosions.
Electronic equipment insurance-With the popular tech-savvy world developing, this cover is crucial for businesses looking to cover all business electronics such as computers, licensed software, and printers. All of which are essential for business operations.
Business insurance claims
To submit a new insurance claim or keep an eye on an existing claim, one can make use of the email option at miclaims@momentum.co.za.
Customer Reviews & Testimonials
"
May 2021
The only company with business insurance that allows you to add on as you grow!
Xolani R
— Rivonia —
December 2020
Have a risky business then momentum is the way to go they cover those risky business minded people well I mean someone have to and they have amazing deals.
Bongani K
— P.E —
February 2021
Perfect for those whos business require a lot of traveling and its stressful leaving all your valuables alone well not anymore.
Martha V
— Soweto —
Momentum Contact
Contact Number
E-Mail
Website
Physical Address
268 West Avenue, Centurion,

Johannesburg

Gauteng

0157

South Africa