Competitive services
Premiums within your budget
Get an online quote
In-page navigation
---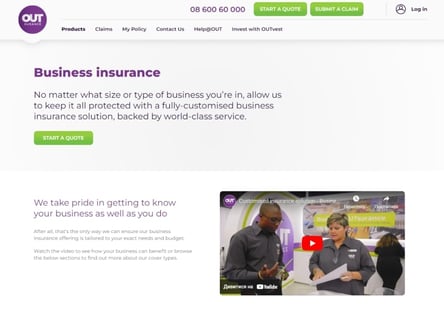 Author OUTsurance. Screenshot of OUTsurance website.


[Accessed February 7, 2023]
About OUTsurance
OUTsurance makes life a lot easier for members by allowing them to access insurance to cover whatever kind of special need they have.
Be it personal insurance like life cover or car and business insurance, OUTsurance knows just how to create a solution that will benefit members long term.
Business insurance claims paid quickly
To date, OUTsurance has paid out millions in claims to members who insure through their company. They take a detailed look at what members need and customize a solution that meets their needs specifically. Their innovative background has become one of their key selling points, making life a lot easier for their clients to access their life, car, travel, and business insurance fast, and claim even faster.
Business insurance for all sizes
Since 1998, OUTsurance has provided business insurance for large, medium, and small businesses alike and provided a unique and valuable service to all. They have a team of highly qualified employees, who know the business world well, ensuring that should one have any questions or queries, they are able to provide a solution immediately.
OUTsurance Services
OUTsurance business insurance is easy to access, as they make their processes simple and fast, as they know that running a company is time-consuming.
However, running a successful company also has its drawbacks, and there are always risks to consider.
Business insurance covers it all
Third-party liability, theft, fire, damage, and other downfalls can have one financially strained and unable to carry on with business and employees need to be paid even if one's business is suffering. OUTsurance takes all of these factors into account when delivering business insurance in South Africa that will cover a company's needs.
Business insurance for all budgets
Their premiums are well in line with each company's budget, and business insurance through OUTsurance will immediately cover all major assets, third-party liability, business vehicles, employees, and more. Should one need to claim, they make the entire process quicker, to ensure there is minimal loss of time where one could be productive.
OUTsurance – Business Insurance
Product

Business Insurance
OutSurance want to get to know you

Outsurance offers tailor made business insurance solutions. They are a one stop shop for all your business insurance needs. To this end they will send out a broker to you to get to know you and your business so that they can offer you the best cover.

Industry specific insurance

Outsurance offers solutions for any industry from agriculture to hospitality

Comprehensive fleet management

Outsurance will help you with comprehensive vehicle insurance so you can be assured that your fleet will keep working for you
Benefits of OUTsurance
Building insurance - If you own your business building it needs to be insured against fire or sever weather damage. If you are renting you should make sure that the owner has insurance so that repairs can be made and you can get back to business as soon as possible.
Employee Liability Insurance - When you have people working for you you want to be sure that you are covered in case there is an injury on the business premise. This will help you and them get the medical attention that they need.
One man show or small business owners should not neglect insuring themselves and their assets. Outsurance has a range of general business insurances which can help you cove the necessities at an affordable premium.
OutBonus - Enjoy your premiums back after 3 claim free years with the famous Outbonus
---
OUTsurance covers your business when time get tough
OUTsurance always wants the best for their business insurance members.
They offer members the benefits of lower premiums, excellent service bonuses, and a simple process for online business insurance quotes, applications, and claims. They are proud to be compared against other insurance giants in the South African market.
Business insurance that rises above competitors
OUTsurance always rises above competitors with their service delivery and ability to meet the demands of their business insurance members. They face a challenge head-on, and always come out on top. They are passionate about providing a customized solution that will protect companies for years to come and offer individuals a range of products from every angle of the insurance world.
A unique solution for a unique business
Each business is unique and requires a uniquely arranged solution to cover a company in every aspect. One needs to think of the building itself, employees, equipment, and everything else that goes with running a successful company. At OUTsurance, they have specific policy products and insurance options.
Business insurance includes
Business insurance products
Car and fleet insurance
Contents and office equipment insurance
And other business insurance products like business travel insurance
Short term Business insurance in South Africa
OUTsurance provides insurance that will cover one's short-term insurance needs for those unforeseen situations that can happen without warning. One may be in for a nasty financial burden if their business were to burn down in a fire, be burgled and lose thousands of rands worth of equipment, or even have a client slip and fall and break a leg in their premises. These situations happen all the time in running a business and what sets one apart is having the risk factors covered with a business insurance policy that covers one in all of these events.
Business insurance with cash bonuses
What makes OUTsurance unique is their cash bonus, which depends on how many years a member is claim-free, and what they are insuring. At OUTsurance, members always get something back.
They reward members for paying their premiums on time every time. Get covered today, by contacting one of their experienced insurance consultants, and let them take the process further to get business insurance in South Africa today.
Customer Reviews & Testimonials
"
September 2021
Thank you OUTsurance for the best business insurance in South Africa with great cash bonus benefits!
Peter A
— Centurion —
July 2021
Helpful business insurance agents and an easy application process.
Katlego G
— Parktown —
June 2021
An affordable and extensive business insurance policy that allows me to run my business successfully with peace of mind.
Sherly W
— Sandton —
OUTsurance Contact
Contact Number
E-Mail
Website
Physical Address
1241 Embankment Rd, Zwartkop, Centurion

Johannesburg

Gauteng

0157

South Africa
---
Postal Address
PO Box 8443, Centurion, 0046, South Africa
Opening Hours
Monday

08:00 – 18:00

Tuesday

08:00 – 18:00

Wednesday

08:00 – 18:00

Thursday

08:00 – 18:00

Friday

08:00 – 18:00

Saturday

08:00 – 13:00

Sunday

– Closed