Quick home insurance
Easy online application
Keep your home safe
In-page navigation
---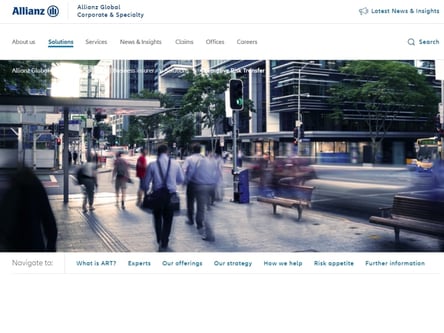 Author Allianz. Screenshot of Allianz website.


[Accessed February 7, 2023]
About Allianz
Allianz is a worldwide leader with experience dating back many years, in providing home contents insurance options to meet their client's requirements.
Home insurance services that stand out
When it comes to service delivery, Allianz stands out with its presence in over 160 countries, delivering the best practices, integrated systems, and over 10 000 corporate policies within their business management.
This is just a small taste of what their abilities are in the insurance industry. Allianz has the experience, the innovation, and the passion for providing service solutions through insurance cover to all clients that need an insurer they can depend on.
Endless capacity for insurance solutions
Investing in the financial future of individuals, families, and businesses alike, Allianz has the capacity and the capability to take into account the needs of their members and create a solution that counts.
They work with the most experienced and qualified key advisors, consultants, and financial experts to give their members the surety that their insurance cover comes from a well renowned and accredited firm.
Allianz Services
Allianz has many years of experience in insuring homeowners for their valuables through home contents and building cover.
They offer home contents cover that offers tenants the benefits of full coverage for their valuable belongings, to allow them security and financial backing should anything be damaged or stolen.
Home contents insurance for you
Allianz gives individual advice, and service delivery to each home contents insurance member, as a VIP customer. Every client assisted is important to the Allianz team and they believe that each member should be treated with that special service they deserve.
They give clients an open door channel of communication, giving them access to their experts over the phone or by email whenever they need assistance with their home contents insurance cover in South Africa.
Allianz is the insurance provider of choice
Allianz is well known for its reliable and efficient services, which are easy to understand and affordable to every income bracket.
For those that are renting a home, one still needs to think of their valuable possessions in their rented home as they hold great value. Keeping these possessions safe is a priority and home insurance is necessary to provide cover for such belongings.
Allianz – Home Content Insurance
Product

Home Contents Insurance
Benefits of Allianz
International Insurance Solutions
Marine Insurance
---
Allianz is your Home Contents Insurance Provider of Choice
At Allianz, one can ensure their home contents, even if they don't own the house that they are living in.
Allianz provides a 24/7 insurance help and support line for clients who need an insurance company on hand at any time. Their processes are simple and clients can apply online whenever it suits them, making life more convenient with faster processes that allow members to be insured quicker.
Expert Home content insurance team
At Allianz, members can make use of the team of qualified and experienced consultants, who know their business. When one insures valuables and home contents, they need an insurance partner that they can trust.
Having a team that understands the insurance business can also be highly beneficial. The Allianz team spends many hours a month training and further developing their staff, so that should they encounter a client who needs assistance, they are empowered to be proactive, and initiate the claim process immediately.
Reliable Home contents insurance cover
One never knows when a flood or fire will take over their home contents, and destroy what they have worked so hard for. With a reliable home insurance partner, Allianz does not waste time in getting claims paid out, which allows members to replace their items that are damaged, or irreparable.
They use their innovative processes to ensure all claims are attended to quickly, without any delay. With the use of online platforms, clients can rely on them to be available no matter where in the country they are. One can even get an online home insurance quote in just minutes.
Home contents insurance available 24/7
Life is unexpected and Allianz provides home contents insurance that can assist in making these unforeseen circumstances more manageable. Theft or damages to one's home contents could happen at any time, which is why Allianz provides their clients with emergency assistance available 24/7 every day of the week.
Should one be a victim of a break-in or fire damage, Allianz will ensure that their consultants can assist members immediately. For home and property damages, they can provide assistance with the service of one of their preferred handymen, to come and repair damages that need to be done straight away and even send out assistance over the weekend.
Insurance focused on a global scale
Allianz takes great pride in delivering effective and affordable insurance solutions for their clients whether they ask for it or not. As they have an outlook of what the market needs on a global scale, they can create a multitude of channelled cover options for clients with different needs.
Customer Reviews & Testimonials
No reviews for this business.
Allianz Contact
Contact Number
E-Mail
Website
Physical Address
32 Cradock Ave, Rosebank

Johannesburg

Gauteng

2196

South Africa
Opening Hours
Monday

08:00 – 16:30

Tuesday

08:00 – 16:30

Wednesday

08:00 – 16:30

Thursday

08:00 – 16:30

Friday

08:00 – 16:30

Saturday

– Closed

Sunday

– Closed