Home insurance plans
Get an online quote
Flexible premiums
In-page navigation
---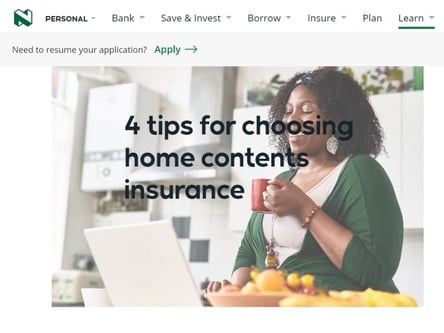 Author Nedbank. Screenshot of Nedbank website.


[Accessed February 7, 2023]
About Nedbank
Nedbank Group Ltd is a world leader in the banking and financial services industry. With decades of experience in assisting clients with all their banking, investments, and insurance needs, they provide a valuable and essential list of services that all clients can enjoy.
Endless options under one roof
Why should one separate all their insurance, banking, and investments into different firms, when they can have all their policies and solutions managed by one convenient company? Nedbank offers their clients a world of opportunities, benefits, and value additions, through every service that they provide.
Cost-effective Home contents solutions
Nedbank has the financial stability to provide their clients with the lasting commitment they need from a services provider. With over 6 million customers throughout South Africa, they are leaps and bounds above competitors within the insurance market.
They believe in providing cost-effective and valuable solutions that make a difference to one's life and their affordable home contents insurance is no different. Their aim is to provide members with a home insurance product that seeks to invest in the future and make life a little less complicated, should any unforeseen circumstances occur.
Nedbank Services
In the event that a landlord encounters a tenant, who damaged their property, building insurance can be a beneficial service to have.
From a fire that leaves a building as nothing more than a pile of ashes to water damage and insect infestations that make it impossible to rent the premises out, building insurance will cover it all.
Keeping tenants protected
Nedbank offers home contents insurance that financially assists tenants to replace their household goods if they are damaged or stolen. Nedbank will cover the damages to the property as well as many more added benefits that keep members as a tenant protected financially.
Nedbank offers insurance to cover valuables
Nedbank understands how important one's valuables are and if one had to create an inventory of all their assets, clothes, technology items, and furniture in their home, the total value of all these items would be far greater than one anticipates.
Building and Home contents insurance
Nedbank has offered homeowners insurance cover that covers them for their building as well as home contents insurance. This has been an incredible breakthrough in the insurance industry, however, there are other factors to consider in this area.
Nedbank – Home Content Insurance
Product

Home Contents Insurance
Choose your cover

You can choose from basic to comprehensive cover for all the valuables in your home.

Alternative Housing

Nedbank offers you the opportunity to find alternative accommodation in case of your home not being safe after a break in.

Replace your food

Power outages are part of our lives in SA. Nedbank covers you for any food that may be thrown away because of appliance failure.
Benefits of Nedbank
Credit Protection is insurance for all loans or lines of credit. If anything should happen to you this insurance will cover your debts so as not to burden your family with this responsibility.
NIC (Nedbank Chat) - a live chat is available to you while you look at the different options, buy or make a claim on line. A friendly consultant is at your disposal to answer any questions you may have.
Life insurance from Nedbank offers you the opportunity to cover up to 10 beneficiaries. You can cover yourself for up to 2 million rand. Add funeral cover and a grocery benefit to help your loved ones.
Legal cover - Nedbank understands that you may need legal assistance. This cover allows you to have a lawyer at your disposal when needed.
---
Nedbank - Offering home contents insurance to cover your valuables
In the event that an individual is a tenant, the landlord is only responsible for the insurance of the shell of the building and this is called property insurance. Whatever a tenant brings into the rented property is considered the tenant's responsibility.
Nedbank has noticed on countless occasions, that tenants are not always aware of this legality, and become extremely stressed when they are the victim of a burglary and don't have a leg to stand on when it comes to claiming for what has been taken.
Tenants have the right to cover their home contents, with Nedbank's renter's cover, which covers everything from linen, jewelry, technology to books and furniture. Anything that the tenant owns that is brought into the rented home, is insurable.
Home insurance covers damages
Tenants are insured in the event of lightning damage and power surges that affect and damage their televisions, computers, and electronic goods. Nedbank home contents insurance covers members for damages from weather conditions that may incur flooding, as well as fires and the damages thereafter.
Home contents insurance covers crime
Theft is a major issue in South Africa at the moment, and being burgled is not only invasive to one's privacy but the most valuable and expensive items are usually targeted first.
Nedbank will cover these items if specified in a member's home contents insurance policy. If a member is moving from one house to another house as a renter, Nedbank will carry over their home insurance cover.
Upgrading and reviewing of policies
Home contents insurance policyholders have the opportunity to upgrade or review their policy on an annual basis to keep up to date with the cost of the replacement of their contents. Being underinsured can mean one could lose out at the end of the day when making a home contents insurance claim. When applying for an online insurance quote, one is always encouraged to be specific, precise, and honest with regard to the coverage that they need.
Home contents insurance and more
Nedbank Group Ltd provides landlords with the comprehensive and affordable building insurance they need to cover them when they have tenants in their property. For the most part, landlords usually don't have any concerns about their tenants, and the income made for the rental can help a great deal financially.
Customer Reviews & Testimonials
"
April 2021
Great benefits and an affordable home contents insurance product. Thanks, Nedbank for giving me peace of mind.
Pumela T.
— Cape Town —
April 2021
Friendly consultants that are ready to assist with all home contents insurance queries at any time.
Frank W.
— Johannesburg —
February 2021
The best home contents insurance in South Africa accommodates their clients with endless options.
Kaylin D.
— Pretoria —
Nedbank Contact
Contact Number
E-Mail
Website
Physical Address
135 Rivonia Rd, Sandown

Johannesburg

Gauteng

2196

South Africa
Opening Hours
Monday

09:00 – 16:00

Tuesday

09:00 – 16:00

Wednesday

09:00 – 16:00

Thursday

09:00 – 16:00

Friday

08:30 – 16:00

Saturday

08:30 – 12:00

Sunday

– Closed