Insurance with benefits
Affordable premiums
Easy online application
In-page navigation
---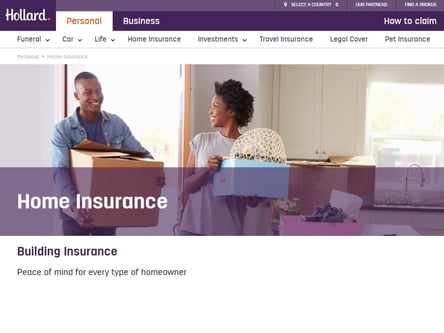 Author Hollard. Screenshot of Hollard website.


[Accessed February 7, 2023]
About Hollard
Hollard has been giving advice and offering cover through valuable insurance options, including home contents insurance, funeral cover, and life cover among many others, to clients in South Africa for over 30 years.
They have built a strong name as a leading insurance provider in the country, adapting to the economy and the needs of clients through their tailored insurance solutions, which meet the needs of their clients in every way.
Market leverage for insurance solutions
Hollard uses its leverage in the market to bring the best solutions to its clients, allowing them to get the best premiums and benefits with every insurance solution they choose.
Because their firm is equipped with the most important resource, which is the Hollard team, they have the strength of experience, knowledge, and passion for people within their care.
Home content insurance that shows up
Hollard is always there for their clients and keeps communication levels as open as possible, informing their clients of all changes and developments within the insurance industry. Hollard can make a difference to the lives of many with their home contents insurance options that are made affordable for all pockets.
Hollard Services
Hollard Insurance truly understands the needs of clients in the insurance industry.
Because they are not confined to one category of insurance, they can mix and match and combine solutions to create a consolidated insurance solution such as life assurance, which gives clients cost savings life cover benefits, as well as having all their investment needs covered at the same time.
Car, life, valuables, and Home insurance
Hollard's insurance services are there to tackle every part of one's life. From the car, life, renters, and home insurance options, members can get all they need from a leading insurance brand.
They offer a home contents insurance option that will cover members as a tenant, should there be a fire or burglary. Important to note is that there are many benefits that Hollard includes in this cover as well.
Home contents premiums and prices
With Hollard's home contents insurance, one's home contents and valuables will be covered at the replacement value should anything happen to them in the member's place of residence. Hollard has the leverage in the insurance market to get members the premiums that they can afford to ensure all that is important to them is covered.
Hollard – Home Content Insurance
Product

Home Contents Insurance
Online Quotes

Get a quote completely online. No more paperwork or long winded phone calls.

Manage portal

You can manage your entire policy from the comfort of your own home. Log on and put in your change of details or follow your claim

Live chat

A friendly consultant is available to chat to Monday to Friday 8am to 6pm
Benefits of Hollard
Cover for your car - let Hollard help you with not only comprehensive car insurance but also extended warranty from their various partners
Invest and Save - comprehensive investment and savings plans that plan for big spends like university and retirement or that trip around the world
Funeral Cover with optional value added benefits which you can tailor to your family's needs
Travel insurance from a company that understands the post Covid-19 world that we live in and all unexpected extra travel costs that this bring with it.
Pet insurance for not only your 4 paw family members but also horses under their specialised Equipage option
---
The home contents insurance cover you need at the right price
Those looking for a home contents insurance quote can make use of Hollard's online platform, which is easily accessible on their website.
Home contents insurance benefits to enjoy
Hollard knows that one's home contents and valuables are precious. When one calculates the total amount of these items, they add up and could come to a large sum of money. Taking control of your valuables by ensuring their value is covered is important. Hollard offers members the benefit of covering the cost of these valuable items through home contents insurance.
Be proactive by getting Home contents insurance
Hollard encourages tenants to be proactive, and get home content insurance in South Africa today. Even if members decide to move, their home insurance cover will stay in place. They can increase or downgrade their policy during the annual policy review, and work out premiums accordingly.
They offer a guided and assisted process of application and claiming with their experienced consultants who are always available to assist members with questions or queries in regards to their home contents insurance or building insurance cover.
This type of Home insurance covers
With Hollard home contents insurance, one will be covered in the event:
Weather conditions that cause damage such as lightning.
Theft and fire, as well as a few extra items as a precautionary measure.
Power surges can also cause problems to electronics such as computers and televisions.
Home contents insurance benefits to enjoy
Counselling for trauma after an attack or robbery at the member's premises.
Payment for a security guard to watch over the member's home while they have their locks or doors replaced after break-in damages have occurred.
Payment for the replacement of groceries that have gone bad due to kitchen appliances breaking down from an electrical fault or power surges.
Payment for clothes that are stolen off the washing line.
Customer Reviews & Testimonials
"
August 2021
An exceptional home contents insurance product with great benefits!
Mark T.
— Cape Town —
August 2021
Thank you for the best home contents insurance that I could ever have asked for! I am so happy to have all my valuables insured.
Ntsikelelo D.
— Pretoria —
June 2021
The best customer service that I have experienced! Hollard made my home contents insurance claims easy and stress-free.
Bongani V.
— Johannesburg —
Hollard Contact
Contact Number
E-Mail
Website
Physical Address
22 Oxford Rd, Parktown

Johannesburg

Gauteng

2193

South Africa
---
Postal Address
PO Box 87 419, Houghton, 2041, South Africa
Opening Hours
Monday

08:00 – 17:00

Tuesday

08:00 – 17:00

Wednesday

08:00 – 17:00

Thursday

08:00 – 17:00

Friday

08:00 – 17:00

Saturday

– Closed

Sunday

– Closed