Best insurance quotes
Affordable premiums
Quick online application
In-page navigation
---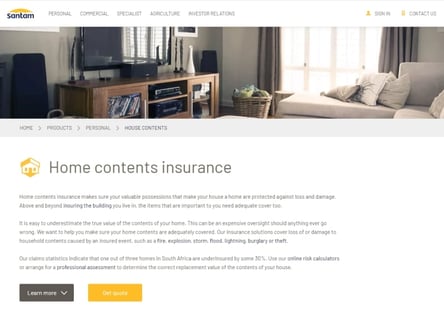 Author Santam. Screenshot of Santam website.


[Accessed February 7, 2023]
About Santam
As South Africa's largest short-term insurer, Santam has won the respect and loyalty of thousands of people with their dedication, service excellence, and commitment to innovation.
With a market share exceeding 20% and more than 1 million active policies they know what it takes to deliver on their promises while remaining both responsible and ethical. Santam provides a comprehensive range of insurance products to suit the needs of private individuals, small businesses, large companies, corporates, and specialist industries. Whatever your insurance needs may be, this insurer will surely be able to meet them.
Personal, commercial, and specialist insurance
Personal: Tailored insurance products including building insurance, home contents, car, watercraft, and drone insurance to suit your needs.
Commercial: Products to suit a variety of businesses and industries such as tourism and entertainment.
Specialist: A range of insurance products to meet the needs of specific industries including aviation, real estate, marine, and agriculture to name but a few.
Big discounts from service providers
Santam has also partnered up with many of South Africa's leading security and risk management companies to help you improve the safety and security of your home or business. From Tracker and Netstar to Maxidor and Trellidor you can enjoy massive discounts from some of SA's top retailers and service providers simply by insuring with Santam.
Santam Services
With Santam you can cover all your most loved and valuable household possessions so that if the unthinkable happens you'll be able to get through it.
Getting to grips with Home contents cover
Santam's home contents insurance offers affordable cover for furniture, home decor, appliances, electronics, clothing and shoes, and jewelry. In the event that these items are stolen, damaged, or completely destroyed, your cover will pay out the replacement value as per your policy.
What you're covered for
If your home contents are stolen or damaged by a fire or flood you'll be covered. You'll also receive a range of additional benefits such as glass and mirror breakage, spoiled food from fridges and freezers, and even the costs of alternative accommodation in the event that your home becomes uninhabitable.
You can also enjoy additional veterinary, key loss, grocery transport, landslip, and subsidence cover. Loss or damage to personal items of guests and domestic employees will also be covered.
Combine insurance policies and save
You can combine your building, home contents, and car insurance into one package. This not only simplifies your life and makes managing your insurance even easier but it allows you to access significant discounts.
In the event that you make a claim on your home contents insurance policy, you need to provide a quotation for the replacement and/or repair of the various items as well as the SAP case number in the event that your items have been stolen.
Santam – Home Content Insurance
Product

Home Contents Insurance
Santam home contents calculator

It is vital that you correctly insure the contents of your house. Santam offers you the opportunity to calculate what your insurance should be.

What is covered

Home contents insurance covers the items inside of your home from theft, fire and weather disasters

Specify your items

It is important to make sure that you have up to date valuation certificates for your jewelry and that you specify each of these and other moveable items, such as a laptop, and their value
Benefits of Santam
Specialist insurance - Santam offers insurances for a niche market from aviation to insuring your crop. If you are looking for something specific you can search for a broker and discuss your needs with them to get advice on the best cover for you.
Agriculture forms a large sector of our economy and Santam understands that cookie cutter insurance solutions may not be what farmers need so they have developed insurance solutions tailor made to the agriculture industry.
SOS from Santam is there when you need a helping hand. Be it a dead battery or a burst geyser they will be there to assist.
Business owners - Santam offers a wide range of insurance solutions to suit your business including your buildings and moveable assets.
---
Manage your cover with the Santam application
Santam has made it easy for you to manage your cover by downloading their app. This allows you to adjust your cover, submit claims, download documents, and more.
Ensure you get the right amount of cover
Imagine having your home ransacked and emptied out by burglars and later having the shock of your life when you find out that while your insurance company paid out as per your home contents cover, you can only replace about half of that which you lost.
This is in fact a very common occurrence. Many South Africans (30% according to Santam), particularly when it comes to home contents insurance, are gravely underinsured. Your lounge suit may have cost you R10,000 a couple of years ago but it's going to cost a lot more than that to replace it now.
This is why it's crucial to take a proper inventory of your home content and consider what replacing all the items would cost today. This means walking through each room and writing down all the items you need covered and then writing down the replacement price for each.
Santam's Home contents calculator
Santam has a handy home contents calculator which will help you determine an accurate value for the contents of your home. This calculator will ask you to provide value estimates of every item in your home by room and will then calculate the ideal cover amount based on these figures.
Add building insurance to the mix
Santam also offers affordable building insurance which will offer you cover in the event that your home is damaged or destroyed. Whether it's covering the cost of leak detection or rebuilding your entire home after a major disaster – Santam has got you covered. If you're currently covered with your bond provider, why not get a quote from Santam and find out if they can offer you better value?
You can quickly and easily get a home insurance quote on Santam's website by either completing their "get a quote" form or by making use of their online home contents calculator.
A big company with a big heart
Santam has a number of incredible CSI initiatives active. From their staff volunteerism program which allows their employees to contribute money or time to any causes close to their hearts or their Santam Child Art project which has been active since 1963 – they're dedicated to making a real difference.
Customer Reviews & Testimonials
"
June 2021
Finally I can leave my home without stressing about break-ins and my valuables knowing Santam has got me covered.
Johnny P
— Pretoria —
March 2021
Affordable and reliable insurance I definitely recommend switching to Santam!
Elizabeth U
— Plettenberg —
April 2020
I smile going to work even if I forgot to lock the door , I know I Santam has got my back if anything do happen.
Precious L
— Limpopo —
Santam Contact
Contact Number
E-Mail
Website
Physical Address
1 Sportica Crescent Tyger Valley Bellville,

Cape Town

Western Cape

7530

South Africa
Opening Hours
Monday

09:00 – 17:00

Tuesday

09:00 – 17:00

Wednesday

09:00 – 17:00

Thursday

09:00 – 17:00

Friday

09:00 – 17:00

Saturday

– Closed

Sunday

– Closed