Insurance quotes online
Affordable premiums
Instant insurance cover
In-page navigation
---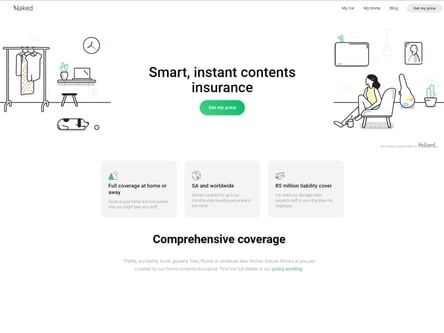 Author Naked. Screenshot of Naked website.


[Accessed February 7, 2023]
About Naked
Naked is a non-life insurer backed by Hollard that offers South Africans affordable, no-nonsense personal car and home insurance.
Put simply, Naked is different because their business model is. Most insurers will reap higher profits during months of lower claims but with Naked that's not the case. Rather than pull more profit when they encounter periods of lower claims they simply take a set "flat fee" from each policy which goes toward running expenses and profits.
Anything left over goes to what they call the "claims pot" so that your claims can be taken care of. Any funds leftover from this are paid over to causes that you care about – causes like Greenpop and WOOF.
Causes backed by Naked
Door of Hope is an organization that takes in abandoned babies and helps them find the loving homes they deserve.
Christel House is a school located in Cape Town that helps vulnerable children with food, transport, healthcare, and counseling.
Cotlands is a well-known charity that helps vulnerable communities access resources to improve child development and education.
Greenpop Foundation aims to help restore the vulnerable ecosystems of our vulnerable planet by planting trees – as many trees as possible!
Living Legends addresses poverty and unemployment by offering children the opportunity to identify and cultivate their natural talents with a focus on life skills and sports.
WOOF Project cares for shelter dogs by providing them with food and shelter while Oscars Arc helps them find a loving forever home.
An online insurer that gets things done
Naked allows you to do everything insurance-related online using their app or website. You can get a quote in just 90 seconds, select a cause to support, or make a quick insurance claim when something has gone wrong 100% online.
Naked Services
Naked offers simple, convenient, and affordable car and home insurance that you can get, adjust and cancel anytime from the Naked app.
As a specialist insurer who only provides cover to individuals (rather than businesses and organizations), they're able to get to know you better and therefore serve you better. Their car and home insurance products have been simplified and it's really easy to understand what you're getting (and what you're not) when you review their FAQs. In addition to affordable cover that helps you do good for causes close to your hearts, you get loads of complimentary services you'll find very useful during an emergency.
Home contents insurance explained
With Naked you can choose a combination of building and home contents insurance or either of them separately. All you need to do is download the app and get the application process going.
Home contents insurance covers you for the replacement value of your personal belongings (and those of anyone living with you) in the event that they are stolen, damaged, or destroyed. This could happen as a result of a burglary, fire or explosion, or a weather-related incident.
You can also choose to add on extra cover for hot water tanks, and electrical and gas heaters but sadly not for any solar heating systems. If you want accidental damage cover (like when you knock over your antique cabinet and damage your porcelain vase collection) you'll have to add cover by specifying such items.
Get help during a home emergency
In addition to requesting emergency services such as police, fire, and ambulance services via the app - you can also get roadside, tow truck services, and emergency home assistance. This means you can use the app to summon a locksmith, glass company, tree-feller, pest control, an electrician or plumber and Naked will cover the call-out fee, materials, and labour. This is subject to a limit of five incidents per year.
Naked – Home Content Insurance
Product

Home Contents Insurance
Get your quote in 90 seconds

Once you fill in your information Naked will send you a quote in 90 seconds

Get covered in 3 steps

Naked sends you quotes, you can tailor make your quote, pay and then you are covered

Portable possessions

You can cover your portable possessions which will cover the items that you take out of the house with you like your laptop
Benefits of Naked
Cover while you travel - Naked offers you the opportunity to cover your belongings for up to 6 months while you travel
24 hours of emergency help - if a pipe bursts inside your house in the middle of the night you can have a plumber at your home to help with this emergency
Security - if your home is broken into there may be a broken door or window and this may make you feel unsafe. Naked will offer a security guard until these entries can be fixed.
Bundle and save - Instead of having different insurances with different companies you can add your building, home contents and car insurance under one umbrella and save on your premiums
---
Apply for full home insurance in under 90 seconds.
If you can't stomach the idea of having to speak to multiple insurance consultants (who will tire you out and apply a lot of pressure on you) just to get a home insurance quote – you're in luck!
Naked is committed to making use of its online system to bring you better, smarter, and more efficient insurance services. Not sure you still want the cover you just applied for? No worries, you have a 30-day cooling-off period during which you're free to cancel your policy with a refund if you didn't claim.
You can easily apply for home insurance (and any other cover that you're looking for) via their simple-to-use app. You can enter in all your details, select the cover add-ons you want, choose the ideal excess for you, and even apply for cover in just minutes.
Earn by referring friends and family
If you're pleased with the service, price, and simplicity that Naked brings you can earn money by referring friends and family members via a personalized referral link.
Full cost transparency
As if Naked hasn't already given us enough reason to choose them – you can also review how Naked works out your personal premium including the Sasria riot and terrorism cover, Naked's flat fee, a binder fee, a risk premium, and commission for intermediary services. Which other insurer lays it all out like this?
The home selfie explained
Naked will request that you take certain photos and videos to show the security measures you have in place as well as to identify the items you want to be covered. This is a requirement and if you want to take additional accidental damage cover, your cover will start only after you submit the selfies.
Once you've downloaded the app and are ready to apply for insurance online, remember to consider taking out a package that includes car, building, and contents cover so that you can get all the awesome benefits we've discussed across the board while also saving big.
Customer Reviews & Testimonials
"
October 2021
This is an insurance you can change as you are going through changes, adjust your premium to suite your life.
Luthando I
— Soweto —
August 2021
I'm an on the go type of person and with Naked I can be assured that my goods are all insured when I'm traveling for up to 6 months.
Karen G
— Vereeniging —
December 2020
Get quotes in an instant but the phone calls might take an minute but definitely reliable!
Jessy B
— Welkom —
Naked Contact
Contact Number
E-Mail
Website
Physical Address
9 Gordon Hill, Parktown,

Johannesburg

Gauteng

2193

South Africa
Opening Hours
Monday

24 – hours

Tuesday

24 – hours

Wednesday

24 – hours

Thursday

24 – hours

Friday

24 – hours

Saturday

24 – hours

Sunday

24 – hours