Insurance deals for you
Affordable premiums
Low excess fees
In-page navigation
---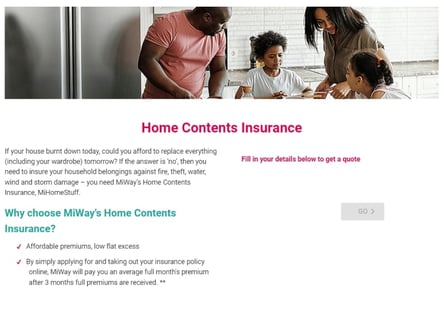 Author MiWay. Screenshot of MiWay website.


[Accessed February 7, 2023]
About MiWay
MiWay is determined to continue its journey towards becoming a world-class insurer and follow in the footsteps of its major shareholder, Santam.
To achieve this vision MiWay continues to deliver excellent products and services, make sure they're a great place to work, continue to play their role in transforming the financial sector, and maintain consistent ROI for shareholders.
A financial services provider who cares
MiWay offers a range of non-life insurance products in their car, home, or business insurance categories. If you're an individual you can access comprehensive car and home insurance at a discounted rate while enjoying cash backs and complimentary benefits.
You can also rest assured that you'll be able to get all the relevant information about your cover quickly and easily since they keep things jargon-free and transparent from start to claim and beyond.
A commitment to a new way of doing things
MiWay is one of the country's insurers that are not afraid to move away from the old way of doing things and have become more and more online-based as they've grown.
You can do everything from applying for insurance and making a claim to leaving a compliment or complaint 100% online via their app or website. And when you do need to speak to someone and get a little help, they'll make sure you get great service from a patient, helpful, and well-trained representative.
Unlike other insurers who promise to be great but never deliver – MiWay keeps its promises, which is likely the reason that they're one of the top-rated insurers on Hellopeter and have many loyal clients who know they've made the right choice.
Stay in control with the MiWay app
Whether you want to update your contact details or review your cover – the MiWay app can help you stay in control. You can also submit claims and access a range of motor vehicle insurance-related features.
MiWay Services
Getting adequate cover for your home contents is a must and everything from your favourite leather recliner and Persian rug to the watch you got as an anniversary gift should be covered.
Cover tailored to you
Do insurers who offer you set home contents cover plans that are either too much or little put you off? You're not alone. MiWay's home contents insurance can offer you just the cover you need at an affordable monthly premium. If you want to cover leisure equipment, contents located in outbuildings, or need extended cover for theft or power surges they'll tailor a plan to suit all your needs.
How MiHomeStuff works
MiHomeStuff covers you for all the personal belongings that belong to you or anyone living with you, subject to certain exclusions such as homes used as communes. Your portable possessions which include watches and jewelry) must be specified under the MiMovables section.
The cover amount will be specified in your CoverSheet and reflects the maximum amount that MiWay will payout. When you make a claim MiWay will deduct any excess that you are required to pay as per your policy.
What you're covered for
MiHomeStuff will cover you in the event that your insured home contents are stolen, damaged, or destroyed. This can occur as a result of a burglary, fire, explosion, earthquake, weather-related incidents, impact-related incidents like a tree falling over or a vehicle impacting your property, or damage caused by burst geysers and pipes.
Your cover will also cover your goods if they're damaged while being transported and alternative accommodation in the event that your home is uninhabitable. You also have limited liability cover that will pay out if you or anyone living with you becomes legally responsible for death or injury to a third party, or damage to the property of a third party.
MiWay – Home Content Insurance
Product

Home Contents Insurance
save

MiWay offers affordable premiums with a flat rate excess so you know what to expect

Alternative accommodation

If your home no longer offers you the safety to stay there then your cover will allow you to find other accommodation with financial assistance

Emergency assistance

With your insurance you can get emergency assistance when needed
Benefits of MiWay
MiWay Website Benefits - the website offers you the opportunity to calculate your BMI (Body Mass Index) to make sure you are the healthiest that you can be. It also offers a life insurance calculator so that you can find out how much a life insurance policy may cost you.
Car Insurance - you can choose your level of insurance. You can insure for third party, third party, fire and theft, comprehensive or total loss insurance.
Apply for a Will - Your death will be a very difficult time for you family. A comprehensive will can help your family deal with your death. Having a will in place can help your family. It allows your family to have access to the funds that you have left them as an estate may take a long time to settle without a will. A will ensures that your wishes are carried out as you wanted.
---
Ensure you have sufficient home contents cover with MiWay
Many people are gravely underinsured.
Whether because they've just picked up a general policy that was offered to them as part of a car insurance package or that they haven't updated their existing policy for a long time.
The first step in applying for home contents insurance is to complete an inventory form. This will list all your home contents and valuables by room and help ensure you're covered for the right amount.
Additional automatically included cover:
For spoiled food in fridges and freezers
Credit and account card fraud
Vet bills if your pet is injured in a car accident
Locks, keys, and remote that is stolen lost or destroyed
Theft of laundry, garden tools and furniture, guest and domestic worker personal property, and groceries from a car.
Cover for portable possessions
MiWay also offers portable possession cover with their MiMovables products that are split into specified and unspecified movable. Unspecified movables are those which change frequently and which you can cover within the maximum cover amount for individual items. Specified cover refers to high-value, specific items that exceed the maximum cover amount for individual items as per the unspecified policy. This insurance covers your possessions anywhere in the world.
Payment of your monthly premium
You're required to pay your monthly premium in order to keep your cover active. In the event that the payment is not received by MiWay, they will allow for a 15 day grace period during which time your cover will remain active. During this time you must contact them to arrange for payment.
Name drop and earn with MiWay
If you're a MiWay customer you can refer a family member or friend and enjoy cash rewards of R1,000 per policy taken out online.
If you refer 5 people, you can get a bonus of R5,000 over and above this amount.
Customer Reviews & Testimonials
"
September 2020
Its all in the name and no other way!! If you like having it your way then get miway insurance they give you what you want.
Cornelia B
— Kimberley —
May 2021
What an easy way to apply for insurance, just one click away and they give you an online quote. They really have made it hassle free.
Siyabonga S
— Mbombela —
MiWay Contact
Contact Number
E-Mail
Website
Physical Address
48 Sterling Road, Samrand Business Park, Kosmosdal Ext 12, Centurion,

Johannesburg

Gauteng

0157

South Africa
Opening Hours
Monday

08:00 – 18:00

Tuesday

08:00 – 18:00

Wednesday

08:00 – 18:00

Thursday

08:00 – 18:00

Friday

08:00 – 18:00

Saturday

08:00 – 13:00

Sunday

– Closed