Affordable insurance
No excess fees for theft
Easy online application
In-page navigation
---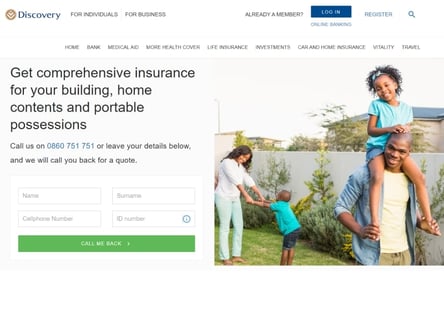 Author Discovery. Screenshot of Discovery website.


[Accessed February 7, 2023]
About Discovery
Discovery is dedicated to helping improve the health and well-being of all South Africans while maintaining a strong focus on equity, diversity, and inclusion.
While they're mostly known as the country's largest medical aid scheme, Discovery continues to expand in the life assurance, short-term insurance, and financial markets with year-on-year growth.
Committed to health and wellness for all
They've committed to getting 100 million people across the globe 20% more active by 2025 and continue to be pioneers in the finance, insurance, and health industries where they've had the biggest impact.
It all starts from within
Discovery has a unique approach to ensuring change, growth, and sustainability. Rather than maintain constant focus on external initiatives they've turned the focus on themselves and have made a commitment to get their own employees healthy and happy.
They do this by encouraging their workforce to make use of their BeWell platform, to get onto Vitality, and make use of a fitness device and app which can link in with their Vitality account. These efforts certainly stand out and make Discovery a company that walks the talk.
An award-winning insurer
Discovery strives to place their customers front and centre by delivering exceptional value across their range of products and services and maintaining a high level of customer service. One of the ways in which their dedication to excellence has been made clear is through their collection of awards which includes being named one of the Sunday Times Top Brands and receiving the Gartner international award for the most innovative digital product.
Whether you need comprehensive care and home insurance neatly bundled in an easy-to-manage package or need to secure life cover that will secure your family's financial future, Discovery is ready to assist you with their market-leading products and world-renowned service excellence.
Discovery Services
If you're looking for home contents insurance, Discovery's offerings are sure to please.
They offer building, home contents, and portable possessions insurance that can cover as much, or as little, as you need. A leading insurer ready to serve. Discovery is one of South Africa's most trusted car and home insurance providers and offers you plans that are tailored to meet your individual needs while also remaining affordable.
No excess for theft or weather-related claims
Discovery's home content insurance was designed to offer you as much peace of mind and convenience as possible. If you make a claim related to theft or weather damage and loss, you won't have to pay any excess.
Additional benefits you can enjoy:
Emergency security and cover for alternative accommodation if needed
Power surge cover
Use of the Discover online vault for storing important documents
Optional cover add-ons
Accidental damage cover (if you're not on their purple plan)
Cover for loss or damage when leaving your property unoccupied for 60 days or more
Subsidence and landslip cover for loss or damage to contents
Add more cover with these options:
Building insurance: Cover your home as well as any outbuildings such as garages, lapas, and entertainment areas with affordable building insurance from Discovery. Their plans come with no excess for weather-related claims, cover for loss or damage to mirrors, glass, and sanitary ware, and access to emergency plumbing, electrical, and locksmith services.
Portable possessions insurance: Obtain comprehensive insurance for all your portable possessions and you get to tailor it to meet your individual needs. You can, for instance, set your desired excess amount (or opt for zero excess), access phone upgrade deals, and get additional cover for clothes and other personal items.
Discovery – Home Content Insurance
Product

Home Contents Insurance
No excess

Discovery has no excess for claims against theft or forced entry and some weather related claims

Asset inventory

Complete the asset inventory assessment to make sure that you are covered for the correct amount.

Power surges

Home contents insurance can cover your electrical appliances from power surges
Benefits of Discovery
Vitality Rewards - Discovery is a leader in offering rewards to its clients in every way possible.
Medical Aid - Discovery is one of the leading medical aids in South Africa.
Investments - Discovery offers a very wide range of investment opportunities that range from offshore accounts to retirement annuities.
International travel - cover for medical emergencies while traveling is included in your cover as an added benefit.
Gap Cover - get quotes for gap cover to cover any shortfall that your medical aid may have.
---
Combine your car and home insurance
With Discovery you can enjoy massive discounts by combining your car and home insurance policies into one, easy to manage package.
Get a car and Home insurance quote instantly
Discovery has made it easy for you to get a quick and simple quote for your home and car insurance needs on their website. If you prefer to speak to a representative you can fill in the simple "call me back form" and one of their representatives will be in touch with you.
Your Home insurance cover and how it works
In the event that your home contents are damaged, stolen, or completely destroyed your Discovery insurance will cover the cost of repairing or replacing these whether as a result of a burglary or fire.
General vs Specific items
While you can apply for a general home insurance policy (most insurers offer this), it's always best to complete an inventory form that lists all the items you want to cover as well as their replacement costs. Using your inventory form and certificates showing the value of any expensive items you want additional coverage for you'll be able to better select your cover amount, excess, and suitable premiums.
With Discovery you can select from three plans which offer a different level of cover ranging from more basic and affordable coverage to more comprehensive cover with a higher premium.
Choose from three Home contents plans
Essential Plan
Classic Plan
Purple Plan
Cover for portable possessions
Your home contents cover comes with no excess for theft or weather-related claims and protection from power surges. You can also add portable possessions cover for any valuable items you regularly take outside of your home. This may include a bicycle, handbag, jewelry, mobile phone, tablet, or laptop.
Customer Reviews & Testimonials
"
January 2020
High prices but high covers as well. Luxury insurance for your luxury goods.
Mandla H
— P.E —
March 2020
Imagine having the best benefits with the most exclusive insurance all for less than an arm and a leg. You don't have to stress Discovery is here.
Bhele J
— Durban —
September 2021
Sometimes the phone rings a while but that's about it when I think of a list of what's wrong with Discovery insurance. Packages are made fit to your needs.
Thomas T
— Bloemfontuin —
Discovery Contact
Contact Number
E-Mail
Website
Physical Address
1 Discovery Pl, Sandhurst, Sandton,

Johannesburg

Gauteng

2196

South Africa
Opening Hours
Monday

08:00 – 17:00

Tuesday

08:00 – 17:00

Wednesday

08:00 – 17:00

Thursday

08:00 – 17:00

Friday

08:00 – 17:00

Saturday

09:00 – 14:00

Sunday

09:00 – 14:00